Follow us on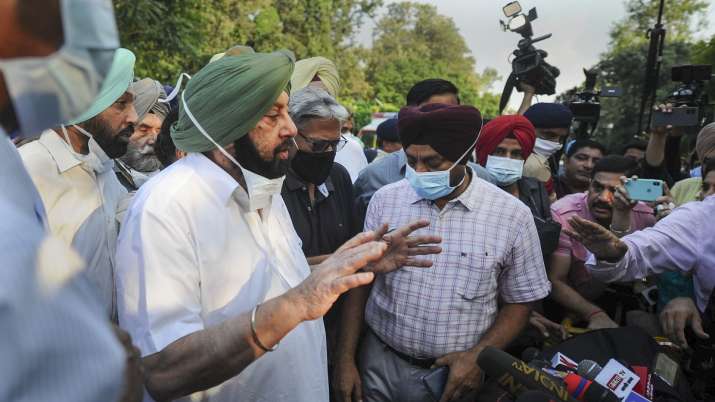 Renewing his attack on Congress Punjab party chief Navjot Singh Sidhu, former CM Captain Amarinder Singh said that the cricketer-turned-politician is 'dangerous for the country'. In an exclusive interview with India TV, Singh also hit out at party top leadership's advisors namely Randeep Singh Surjewala and KC Venugopal for ill-advising Rahul Gandhi and Priyanka Gandhi Vadra.
'Sidhu dangerous for country'
Slamming party's state unit chief Navjot Singh Sidhu, Amarinder Singh said he is dangerous for the country and the party will not win even 10 seats under his leadership in the upcoming assembly elections.
Speaking on the recent crisis in the Punjab Congress, Captain Amarinder Singh said, "I am not angry... what should I be angry about... the decision has been taken by the party high command... I met them (high command) 3 weeks ago, informed that Sidhu is pulling to one end, I am pulling to the other... party will break like this... then they told me you continue as CM..."
'Punjab a sensitive state, you need to work with Centre'
The former Chief Minister said that Punjab is a sensitive state, shares border with Pakistan. It is important for the state government leadership to work with the Central government because national security is the priority.
I have to meet PM Modi, Amit Shah because it's a matter of national security... but you can't let this state to run in the hands of someone who is close to Pakistan, Singh said.
Mentioning that Sidhu's leadership will be dangerous for the state, Amarinder Singh said that one has to work with the Centre, but how will Sidhu be able to do it... his relationship with the BJP is bad... they (BJP) leaders don't even want to see his face... how will be run the state.
'Possible that high command's advisors might have asked them to change CM'
He disclosed that he had offered his resignation to party President Sonia Gandhi three weeks earlier but she had asked him to continue. "If she had just called me and asked me to step down, I would have," he said, adding that "as a soldier, I know how to do my task and leave once I am called back".
He said he had even told Sonia Gandhi that he was ready to hang his boots and allow someone else to take over as the Chief Minister after leading the Congress to another sweeping win in Punjab. "But that did not happen, so I will fight," he asserted. "I would not have taken MLAs on a flight to Goa or some place. That is not how I operate. I don't do gimmicks, and the Gandhi siblings know that is not my way," he said, adding: "Priyanka and Rahul (Gandhi) are like my children... this should not have ended like this. I am hurt."
"It may be possible that the high command advisors have advised them to change the CM, so they changed it. I have good relations with Rahul and Priyanka... every second day I connect with them over facetime... they never gave me any indication of this," Amarinder Singh said.
"The party can bring whosoever they want... just don't humiliate me like this... I'm upset the way the entire crisis has been handled," Captain added.
'Channi is intelligent, will work well if didn't come under Sidhu's influence'
Captain Amarinder Singh said that Charanjit Singh Channi is a good minister, an intelligent man. As long as he doesn't come under the influence of Navjot Singh Sidhu, ​he will be able to run the government.
"In my 52 years of experience, this is the fist time I am witnessing that there will be a dual or joint leadership of the party. But it doesn't happen like this, there should only be one leader..." Captain said.
Training his guns at Navjot Singh Sidhu, Amarinder Singh said, "four years ago, he was a BJP MP... he is nothing good than a drama master... just cracks jokes."
'Vote will be divided now'
Speaking on the current political situation in the state post-party crisis, Amarinder Singh said that the vote will get divided now... between farm unions... Akali Dal... AAP... BJP, others"
Congress veteran Amarinder Singh resigned on Saturday as chief minister of Punjab, declaring that he feels "humiliated" and said he won't accept state Congress president Navjot Singh Sidhu as the next CM or the party face in the Assembly polls.
The development has come amid a power tussle that polarised the ruling party in the state headed for elections in just about four months.
ALSO READ | Punjab CM Charanjit Singh Channi in his first presser urges Centre to repeal farm laws
ALSO READ | 'Incompetent, has connections with Pak PM Imran, army chief': Amarinder goes all out against Sidhu