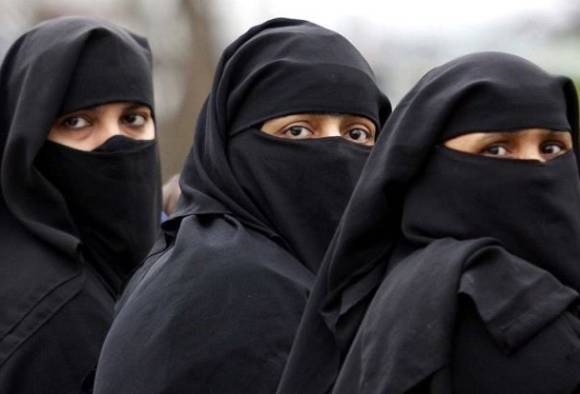 In a significant step, the government today approved a draft law under which the practice of giving instant triple talaq would be made illegal and void and would attract a jail term of three years for the husband.
The draft 'Muslim Women Protection of Rights on Marriage Bill' was considered by the Union cabinet which gave its nod.
The draft was prepared by an inter-ministerial group headed by Home Minister Rajnath Singh. The other members included External Affairs Minister Sushma Swaraj, Finance Minister Arun Jaitley, Law Minister Ravi Shankar Prasad and his junior in the ministry P P Chaudhary.  
The proposed law would only be applicable on instant triple talaq or 'talaq-e-biddat' and it would give power to the victim to approach a magistrate seeking "subsistence allowance" for herself and minor children.
The development comes few months after the Supreme Court in a historic judgment declared the practice of "triple talaq" unconstitutional.
In a 3-2 majority judgement, a five-Judge bench comprising Chief Justice of India JS Khehar, Justices Kurian Joseph, Rohinton Fali Nariman, Uday Umesh Lalit and Abdul Nazeer held that 'triple talaq' violated Articles 14 and 15 of Constitution.
While Justices Nariman and  Lalit ruled that triple talaq is unconstitutional and violative of Article 14, Justice Joseph struck down the practice on the ground that it goes against Shariat and the basic tenets of the Quran.
However, Chief Justice Khehar and Justice Nazeer disagreed with Justices Nariman, Lalit and Joseph and ruled that "triple talaq" cannot be struck down on the ground of being violative of Article 14, since there is no state action.
Justice Khehar and Justice Nazeer also directed the government to frame legislation to regulate the practice of "triple talaq".