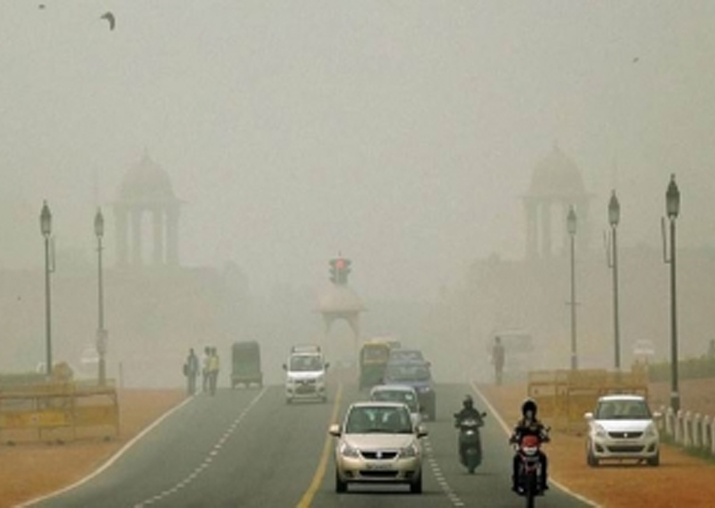 As the harvesting of paddy begins and incidents of stubble burning are already being reported in parts of Punjab and Haryana, strong and dry north-westerly winds will add to a grimmer picture for the already deteriorating air quality of Delhi.
However, on Friday, the Ambient Air Quality Index (AQI) for Delhi shown by the Central Pollution Control Board (CPCB) was recorded at 182, under 'Moderate' category, against 'Poor' on Thursday and Wednesday. Particulate Matter (PM2.5 and PM10), as per the CPCB monitoring stations, were the major reason behind the deteriorating air quality.
Meanwhile, the officials from CPCB said to have received information about incidents of stubble burning in parts of Punjab and Haryana, where farmers face short deadline to prepare their fields for potato and wheat cultivation, slated from November first week.
"The incidents (of stubble burning) are being reported now, but not on a large scale yet. The condition of air is however dependent on many factors, including the concentration of emissions that reaches Delhi and that which is dispersed," an official from the CPCB told IANS.
The areas where stubble burning is being reported are at the aerial distance of about 150 to 200 kms from Delhi.
According to a forecast by System of Air Quality and Weather Forecasting And Research (SAFAR), Delhi will see moderate air quality for the next three days, though the PM2.5 and PM10 (particles in air with diameter less than 2.5 and 10 mm) was still higher than the permissible limit. 
PM2.5 is one of the major and common pollutant with direct consequences on life expectancy.
On Friday, Delhi's PM10 was recorded at 142 microgrammes/cubic metre and PM2.5 at 74 microgrammes/cubic metre. For Saturday, SAFAR has projected it to be 138 and 70 respectively.
The standards prescribed by the World Health Organisation (WHO) for PM2.5 is 10 microgrammes per cubic m annual mean and 25 for 24 hours mean, and for PM10, prescribed international standards is 20 microgrammes per cubic m annual mean and 50 for 24 hours mean).
However, the Indian standard keeps it at PM2.5 at 40 (annual) and 60 (24 hour mean), while for PM10, it's 100 units (24-hour mean). 
According to the private weather forecasting agency Skymet, the present strong north-westerly winds (from Punjab and Haryana) entering Delhi are also a reason for slight deterioration in the air quality.
However, the wind direction is projected to change in the next two days, which may aggravate the air quality situation of Delhi.
"From October 18 onwards, easterly winds from Uttar Pradesh will start. The wind speed would be less, thus concentration of pollutants may be slightly higher," Mahesh Palawat, director Skymet said.
On Wednesday, farmers from Punjab registered their protest at National Green Tribunal (NGT), stating that the state government, as directed by the tribunal, is not providing them with adequate resources to dispose the stubble and other residue in an environment-friendly way.
This, they said, is forcing them to opt for the traditional method of burning it -- a major reason leading to poor air quality of the national capital.
"We are not left with any option but to burn the residue. The state machinery is not helping and managing the stubble otherwise is very expensive," said Omkar Singh, a member of farmer organisation Bhartiya Kisan Union in Punjab.
"This is the reason many farmers have already started burning the paddy residue."
The National Capital last year (November to December) suffered from one of the major air quality crises of the decade after Diwali.
The after-Diwali effect (emissions from crackers and other sources), large-scale stubble burning in neighbouring Punjab, Haryana, Rajasthan and Uttar Pradesh led to a cumulative effect of dragging the AQI under 'Severe' category, thereafter the AQI (PM2.5 and PM10) breached the 500 mark at all locations in Delhi. 
Schools were closed following government advisories and outdoor activities were officially discouraged.