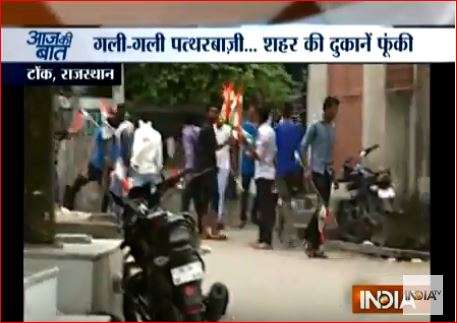 Fresh violence erupted in Rajasthan's Tonk on Friday after the administration refused to give permission for taking out "tiranga yatra" in the area.
Angry over denial of permission, an agitated mob set many shops on fire and indulged in stone pelting. It was retaliated by the members of the other community as well.
When the police tried to control the situation, they were also attacked with stones.
After that, the police used tear gas to control the situation.
Police force has been deployed in large numbers in the area and curfew has been imposed in Malpura. 
Communal clashes had erupted after people belonging to the minority community attacked kanwariyas in Tonk district on Thursday.
Watch: Day after communal clash, fresh violence erupts in Tonk