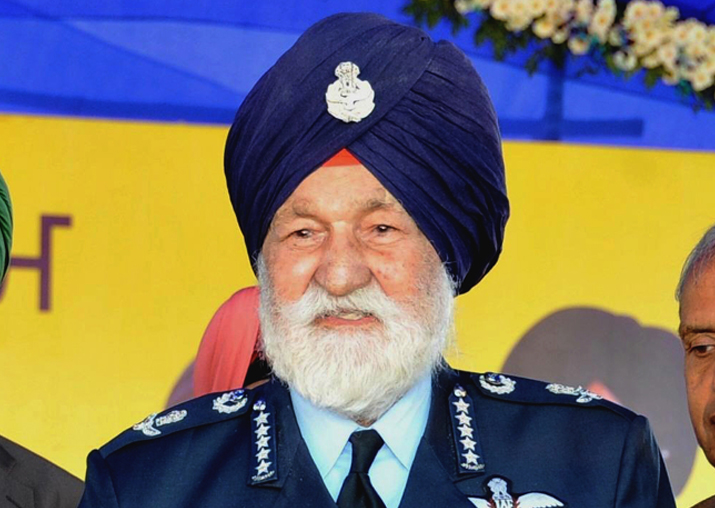 Marshal of Indian Air Force (IAF) Arjan Singh was on Saturday suspected to have suffered a massive heart attack and was in a critical condition on ventilator support at the Army Hospital (R&R) here.
Defence Minister Nirmala Sitharaman, who visited the hospital's Intensive Care Unit (ICU) where Arjan Singh is undergoing treatment, said that she received message that Marshal of the Air Force Arjan Singh was taken ill. He was suspected to have had a massive heart attack in the morning and was brought to this hospital, she said, adding that at the hospital, he held the hand of the doctor who had been regularly visiting him, and was also responding to the treatment.
The Minister said that she also spoke to his family -- his two sisters and the husband of one of the sisters -- and then visited the ICU where he is being treated. 
Prime Minister Narendra Modi, she said, was informed and he came here around 5 pm. He also spoke to the family and went to the ICU. 
"His condition remains critical," the Defence Minister added.
The three Services Chiefs also visited the hospital. "We all are here, just giving all the necessary support to the family. We only hope that he recovers early. His condition remains critical," Sitharaman said.
Arjan Singh, 98, was appointed Chief of Air Staff on August 1, 1964. He was the first Air Chief who kept his flying category till being appointed the CAS (Chief of Air Staff).
Singh had the unique honour of leading a flypast of over 100 IAF aircraft over the Red Fort on August 15, 1947 when India attained Independence. In the 1965 war with Pakistan, he led the IAF operations that pushed back the Pakistani offensive. He led the Indian Air Force through the war showing successful leadership and effort. Upon retirement from IAF in 1969, he was appointed the Ambassador to Switzerland.
In recognition of his services, he was conferred the rank of Marshal of the Air Force in January 2002, making him the first and the only 5-star rank officer with the IAF.