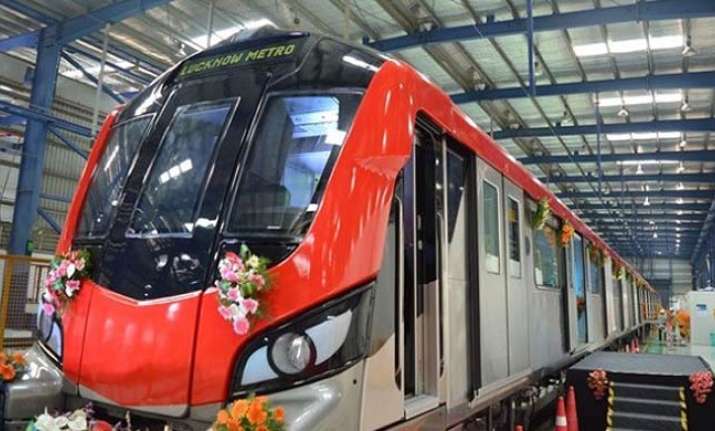 In a development that would bring cheer to commuters in the capital city of Uttar Pradesh, Lucknow on Tuesday joined the list of cities that offer Metro train services after Union Minister Rajnath Singh and Chief Minister Yogi Adityanath flagged off the maiden run of the Lucknow Metro here today. 
The first train was flagged off by the Home minister, who represents the Lucknow Lok Sabha seat, and the Chief Minister from the Transport Nagar metro station.
Transport Nagar to Charbagh Lucknow Metro line inaugurated in presence of UP Governor, CM Adityanath and HM Rajnath Singh pic.twitter.com/k6jpgqfNRM

— ANI UP (@ANINewsUP) September 5, 2017
Addressing the media, CM Adityanath said that the state government is also planning to extend the Metro service to other cities of the state. 
The services will be opened for public use from tomorrow. The 8.5-km-long 'Priority Corridor' from Transport Nagar to Charbagh, which is part of the Phase-1 of the project, will be operational for the public from 6 am to 10 pm every day.
The metro trains are likely to ply at intervals of 6-7 minutes.
The fare ranges from Rs 10 to Rs 30 and is based on the number of stations that you travel as against the number of kilometres. So, for travelling a distance of 1 station the passengers will have to pay Rs 10, for 2 stations it will cost Rs 15, from 3 to 4 stations it will be Rs 20 and for travelling a distance of 5 to 8 stations, the fare will be Rs 30.
The stations that come under the Priority Corridor are; Transport Nagar, Krishna Nagar, Singar Nagar, Alambagh, Alambagh Bus Station, Mawaiya, Durgapuri and Charbagh.
Former chief minister Akhilesh Yadav and his father Mulayam Singh Yadav had flagged off the trial run on the same stretch in December last year, just ahead of the assembly elections, to showcase it as a signature project of the erstwhile Samajwadi Party government.
However, the Union home minister's presence at the event is a strong signal from the BJP that it was the Narendra Modi government at the Centre which contributed the bulk of the funds to the project.
The BJP had attacked the Akhilesh government during the assembly election campaign, asking why metro trains were not running in Lucknow.
As the matter got embroiled in politics, Akhilesh had shot back saying it was due to the delay in obtaining clearance from the commissioner, Metro Railway Safety, and had blamed the Centre for it.