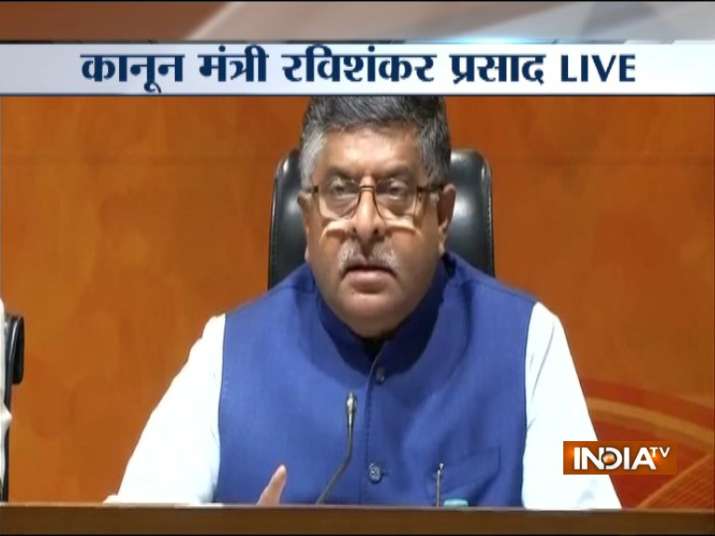 The Bharatiya Janata Party (BJP) on Friday cornered the Congress over its veteran leader Ghulam Nabi Azad's controversial remark concerning Army operations against terrorists in Jammu and Kashmir. Addressing a press conference in New Delhi, Union Law Minister Ravi Shankar Prasad demanded an explanation from UPA chairperson Sonia Gandhi and Congress  president Rahul Gandhi over Azad's statement.
Prasad said the statement was demeaning for the Army and security forces who are fighting for the country in Jammu and Kashmir. "Congress is now standing with those who want to break the country. What kind of politics is this?" Prasad said. Referring to Azad's statement in which he described Defence Minister Nirmala Sitharaman's visit to Army jawan Aurangzeb's house as drama, Prasad said," We salute Aurangzeb's bravery. But Ghulam Nabi Azad says that Army chief and Defence minister's visit was nothing but a drama."  Aurangzeb was abducted and killed by terrorists last week.
"In J&K, 72 terrorists were killed in 2012, 67 in 2013. In June'14 we came to power. 110 were killed in 2014, 108 in 2015, 150 in 2016, 217 in 2017 and 75 have been killed till May 2018. So Mr. Ghulam Nabi Azad you can see difference between your and our government," Prasad said responding to Azad's statement in which he had reportedly raised questions over Army operations in the Valley. 
The senior BJP leader said it was shocking that such a statement came from a person who had been the Chief Minister of Jammu and Kashmir and witnessed the "brutal face of the terrorism in the state from Pakistan side". Ravi Shankar Prasad also said that the Congress led by Rahul Gandhi and "blessed" by Sonia Gandhi is at present making observations "in sync with the terrorists and their patrons".
In an interview with a private television channel, Azad had said security forces were killing common people in Jammu and Kashmir in the name of eliminating terrorists.
"They take action against four terrorists and kill 20 civilians along. Their action is more against civilians than terrorists. For instance, they killed 13 civilians in Pulwama and just one terrorist. Saying that it will be an all-out operation, clearly shows that they plan to do a massacre," Azad had reportedly said.
Congress leader Saifuddin Soz stokes controversy, says Kashmiris would prefer to be independent
Pakistan-based terror group Lashkar-e-Taiba (LeT) in a statement came out in support of Azad's statement. LeT spokesman Abdullah Ghaznavi quoted chief Mahmood Shah as saying that they agreed with Azad.
"We have been of the same opinion as of the expressions of Ghulam Nabi Azad and others since the beginning. India is up to bringing back the era of Jagmohan by imposing the Governor law so as to sabotage the infrastructure and commit massacre of innocents. It is a move to further intensify the mass killings," the e-mail from the banned terror group stated.
Watch: Ravi Shankar Prasad slams Ghulam Nabi Azad, Congress