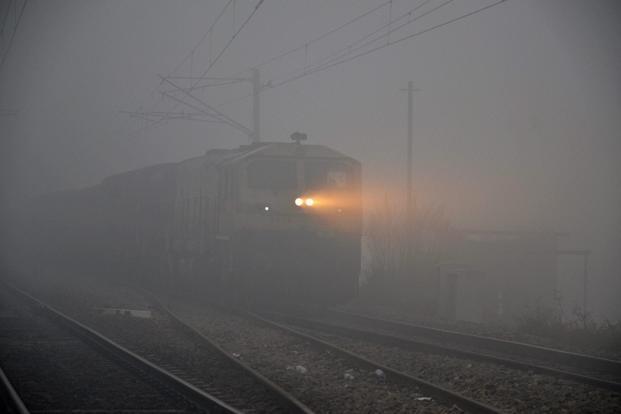 The national capital is witnessing severe cold, with temperature going down to 6.7 degrees Celsius.  
The fog during the morning hours led to disruption of flight and train services. 
With dense fog covering several parts of the city, flight operations at the Indira Gandhi International Airport were disrupted for two hours. 
According to a source, departures were put on hold from 7.30 am to 9.30 am due to low visibility conditions.
Total 10 flights were diverted from Delhi airport between 7.30 am and 9.30 am, the source said.
Besides, 55 trains were cancelled. The frequency of 25 trains were reduced, while two trains remained partially cancelled across northern railways, according to official figures.
Prime Minister Narendra Modi's flight to Jalandhar was also delayed. According to the schedule, the inaugural programme was to start at 10 am, however, the prime minister reached after 12 pm.
Entry of trucks to Delhi would also be stopped for 24 hours starting 11 pm on Friday in view of the severe pollution in the national capital, the Supreme Court-appointed Environment Pollution Control Authority (EPCA) has instructed authorities.
"The enforcement of this direction requires coordination of all NCR (National Capital Region) states and you are therefore, requested to take steps to ensure that this happens. Also, the opening of the Eastern and Western Expressway will make this easier to implement as the trucks that are not destined for Delhi now have convenient alternative to take," EPCA chief Bhure Lal said.
The decision has been taken in view of the severe pollution level in the national capital for over 31 hours.
Lal also urged people to minimise use of personal vehicles and avoid being outside for prolonged periods.
Delhi's air quality remained severe for the second day on Thursday due to adverse meteorological conditions as authorities warned that the condition would continue to deteriorate unless sufficient rainfall brings respite by cleansing the air.
Watch Video: