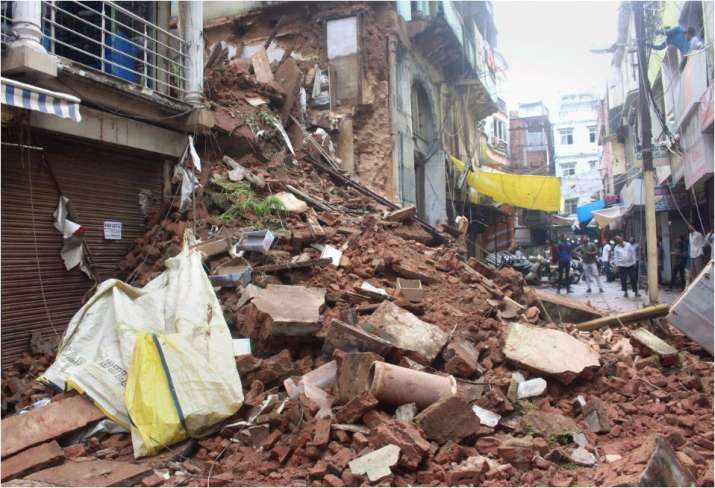 Latest reports say that a two-storey building has collapsed in Bhopal, vehicles are buried under debris. Bhopal Police and municipal authorities are at the spot of the building collapse.
The building collapse has taken place in old Bhopal. The building stood in Khazanchi Gali near Tapadia Complex.
भोपाल। पुराने शहर स्थित मारवाड़ी रोड पर तापड़िया कॉम्लेक्स के पास खजांची गली में दो मंजिला बिलिडिंग गिरी,मलबे में कई वाहन दबे। जान-माल की हानि की आशंका नहीं, हाल का मामला। नगर निगम और पुलिस की टीम मौके पर पहुंची।#bhopal #Building #collapse pic.twitter.com/2FYys6gtln

— Aadarsh gautam (@GautamAadarsh) September 10, 2019
No one was injured in the incident as a part of the structure, in which four families stayed, stood intact, said Inspector Praful Shrivastava of Kotwali police station.
"These families have been evacuated. A dilapidated portion of the building was razed by civic authorities. The rooms that were in a bad state have been locked," he said.
The building, which also houses a godown, was bought by one Amritlal Jain from the treasurer of erstwhile Bhopal nawab Hamid Ulah Khan, people in the vicinity said. 
This, however, could not be confirmed with local authorities.
(With PTI inputs)
Read | Crawford Market: Part of four storey structure collapses near Mumbai's iconic marketyard