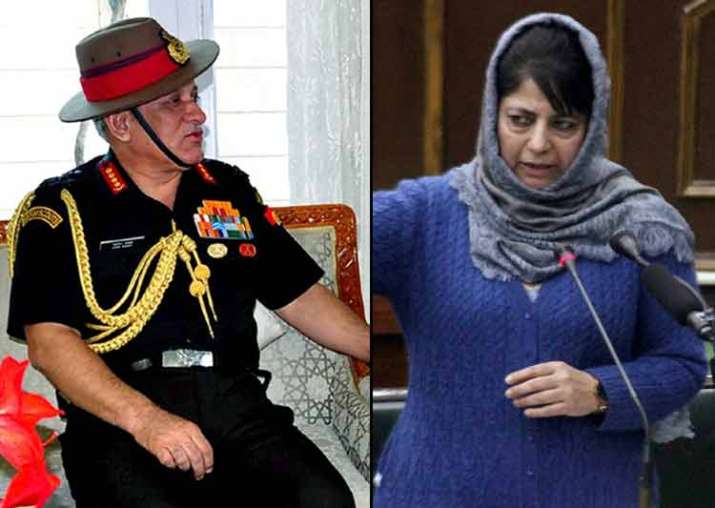 Amid ripples over a controversial video showing a man tied to an army vehicle during polling for the Srinagar Lok Sabha seat on April 9, Jammu and Kashmir Chief Minister Mehbooba Mufti has reportedly told Army Chief General Bipin Rawat that "such conduct of the troops" is "washing away all the progress that security forces have achieved in the Valley over the years".
According to a report in the Indian Express, Mehbooba has also "sought action" against those responsible for the alleged excesses in the shown video where a man was tied to Army vehicle and paraded around in Budgam district. 
General Rawat called on Mufti in the Capital on Saturday, a day after the video surfaced. 
While the 30-minute-long meeting, which began at 1900 hours, was termed as a courtesy call, official sources said that the chief minister raised the issue of the video that has gone viral on social media. 
"A deeply distraught" Mehbooba told him that such actions have "serious repercussions", and "appealed for immediate corrective action", according to the daily. 
Gen Rawat apprised Mehbooba about the situation in the Valley and assured her of timely action against its personnel who were responsible for the act of tying the man to the vehicle at Budgam. 
The army chief, who was on a visit to the Jammu-based IX Corps of Western Command, had called on Governor N N Vohra and apprised him about the situation along the borders and also on the forthcoming Amarnath Yatra. 
According to the sources, the army officials told a probe team that they had received a call from ITBP and local police guarding a polling station to save them from a mob which was out to lynch them. 
The army convoy rushed in from Kandipura and tied 36- year-old man Farooq Dar to the army jeep, they said. 
This incident was shot by unknown residents on their mobiles and the video showing Dar as a shield against stone- pelting protesters was circulated on social media. 
The video triggered a public outcry in the valley prompting the civil and army authorities to launch separate investigations. 
During the investigation, Dar was claimed to have said he was picked up when he was on way to his sister's house, where a bereavement had occurred, after casting his vote. 
He alleged that he was picked up by an army contingent that wanted to enter Beerwah village with the polling staff and tied with ropes to the front of the vehicle, officials said. 
The video showed the thickset man strapped to the bonnet while seated on the stepney affixed to the bumper of the jeep. 
Dar claimed he was moved around 10-12 villages at the head of the convoy, which included vehicles with security personnel and polling staff, before being let off.