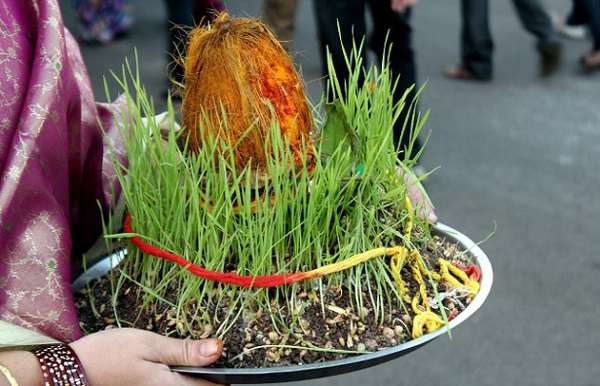 Navratri 2017: Sharad Navratri will begin from 21st September and end on Navmi 29th September. The preparations of the festivities have started already in India and among Hindus around the world. During this 9-day-long festival, people fast and pray for good health and prosperity. The nine manifestations of Goddess Durga is worshipped, which is initiated by establishing a Kalash in the house. If you want prosperity and happiness for your family, perform the ghatasthapana, on the right time and with the right procedure. 
Navratri Kalash Sthapana or Ghatasthapana 2017 Muhurat
Kalash Sthapana or Ghatasthapana holds a special place in Navratri Puja. By performing Ghatasthapana, prosperity and happiness is ushered in the family. Ghatasthapana marks the beginning of Navratri fasting. This year, Kalash Sthapana auspicious time is on 21st September from 6:03 am to 8:22 am. There's another auspicious time for Ghatasthapana as well. You can perform the ceremony from 11:36 am to 12:24 pm. Plant Barley seeds and worship Goddess Durga, seeking her blessings.
Goddess Durga Puja Muhurat 2017
After Ghatasthapana, pray to Goddess Durga for 9 days. You can also observe fast. The auspicious time for Ghatasthapana is 11:36 am to 12:24 pm. According to astrology, the best time for prayer during the Abhijeet Muhurat. Every day, the eighth Muhurat is known as Abhijeet Muhurat. It is usually 45 minutes long. It is believed that if you pray during this time of the day, then the wish is definitely fulfilled by the God. On 26th September, the doors to Goddess Durga Pandals will be open for devotees. 
Things needed for Navratri Ghatasthapana 2017 
Goddess Durga cherishes red colour, so buy a red coloured Aasan for the Goddess. Buy a vessel for storing soil for Ghatasthapana. Get some soil for planting Barley seeds and the holy red thread. Apart from this, you should have a vessel filled with water, cardamom, clove, camphor, betel nut, rice, coins, Ashok leaves, coconut, red-coloured cloth, vermillion, garland and cosmetics for Goddess' Shringaar.