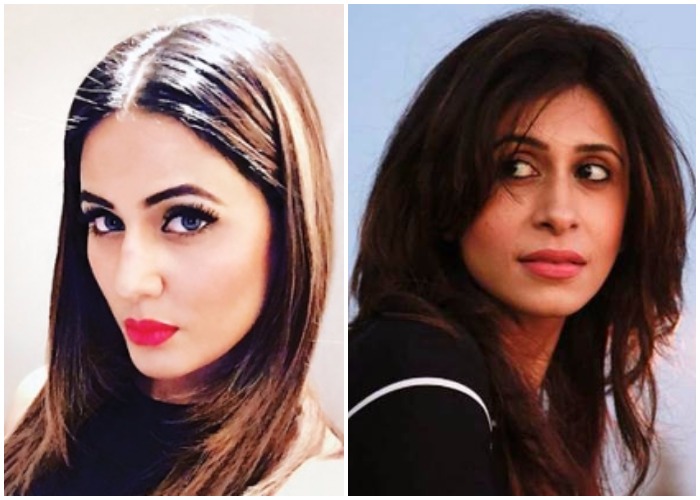 In the Bigg Boss 11 house, factions have already been made among the housemates. Going by the recent episodes, we can make out that this season is going to be Arshi Khan and Shilpa Shinde vs the housemates. Everybody seems to be having problem with Shilpa Shinde and Arshi Khan, who stands as her eternal support in the house. Hina Khan has been lately grabbing headlines for her tiffs with Shilpa and Arshi. Recently, ex-Bigg Boss winner Gauhar Khan slammed Hina for her insensitive remark on Shilpa's poor English. 
After Gauhar Khan, Kishwer Merchantt got miffed with Hina on something she said on her Day 2 in Bigg Boss house. In an episode, Hina was heard saying that she will never stoop as low as Kishwer, referring to the incident where she had spit in Rishabh Sinha's water in the wild card entry. She called this act gross and said she would play the game with due respect. 
A fan informed Kishwer about the same, however, not giving her the full clipping of the incident. She slammed Hina Khan on social media. Kishwer wrote: 
"There are times when u make a mistake, then say sorry and move on to becoming a better person. With all due respect @realhinakhan it's just been 2 days, u can talk abt things, but hang on let the tasks start, we are watching u from the outside to see how nice u are nt tht I haven't heard stories abt u when u were dng yeh rishta kya kehlata hai and now recently when u did #khatronkekhiladi (sic). Let the house push u a little. Let it start driving u crazy. I haven't explained myself for the action I did 2yrs bk once again in this post as it's my past. I have said sorry to Rishab, things are super between us !! At the end of it I came out with dignity and soooooo much love and respect from everyone, I came out a winner thts what mattered. My growth from bad to good is what mattered !!! All the best Hina 'keeping a watch on you'!!"
Later, Merchantt deleted the tweet and posted another series of tweets clarifying her stance. 
Guys let's nt blow it out of proportion.. someone sent me only tht part where she spoke abt tht incident..Later I saw the entire video

— Kishwer M Rai (@KishwerM) October 4, 2017
And thts why deleted the post.. pls relax everyone .. and if this isn't enuf then Lage raho ✌️👍

— Kishwer M Rai (@KishwerM) October 4, 2017
Hina Khan is one of the housemates in Bigg Boss Season 11. This week, Shilpa Shinde, Zubair and Akash are sent to Kaal Kothri as a punishment for being unruly in the house. On Saturday, in 'Weekend Ka Vaar', one candidate out of Shilpa Shinde, Arshi Khan, Zubair, Jyoti Sharma and Bandgi Kalra will be eliminated. Watch Bigg Boss 11 from Monday to Friday at 10:30 pm and at 9 pm on Saturday and Sunday only on Colors TV.