 Movie Name:

Vodka Diaries movie review: Kay Kay Menon's suspenseful journey fails to give a thrill

Critics Rating:

1.5

/

5

Release Date:

JAN19, 2018

Director:

Kushal Srivastava

Genre:

Thriller
This Friday saw the release of three Bollywood mystery thrillers- Vodka Diaries, Nirdosh and My Birthday Song. But, we're going to talk about 'Vodka Diaries' that stars phenomenal actors like Kay Kay Menon, Mandira Bedi, Raima Sen and Sharib Hashmi in pivotal roles. Helmed by debutant director Kushal Srivastava, the story revolves around a club called Vodka Diaries, where few murders have happened, and ACP Ashwini Dixit is investigating them.
Plot
The story is set in the freezing climes of Manali. The film opens with ACP Ashwini Dixit (Kay Kay Menon) who finds himself solving a series of mysterious murders happening in a single night, which might be connected to the nightclub, Vodka Diaries. As Ashwini goes deeper into the investigation, he gets hounded by weird dreams and while trying to zero in on the murderer, his wife (Mandira Bedi) disappears. He gets phone calls from a mysterious woman (Raima Sen) who tells him to connect the clues left behind by the murderer and then to solve the mystery which will eventually lead him to his wife. Will Ashwini manage to find who is behind these strange happenings or will he lose himself in the process?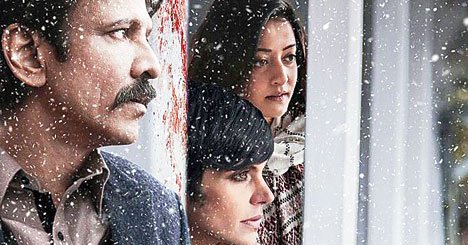 Review
Vodka Diaries is more of a psychological thriller than a murder mystery. The film opens with an impressive severe top shot of a distraught K.K. Menon running through the snow of what we soon come to know is Manali (a badge on a cop's shoulder mentions HP). ACP Ashwini isn't your typical trigger-happy cop, but a scared, vulnerable guy who wants to look tough. Someone we find read mystery novels. One who is always on the brinks of breaking down. Despite their best efforts, the moments between Shikha (Bedi) and ACP Ashiwini (Menon) are awkward and though the seasoned Menon throws in all he's got, even his handlebar moustache looks weary by the end of this sobering slog.
Vodka Diaries might have looked brilliant in the writer's head, but it's not more than an average take on the concept of alternative reality. Alert viewers will guess the big twist in Vodka Diaries within the first five minutes. The murder investigation gets side-tracked by the disappearance of Ashwini's beloved wife Shikha (Mandira Bedi). The bodies seemingly come to life, and it appears that there were no murders at all. The story at one-point mess up the intrigued viewers' minds. 
The background music in the film reminds one of old Hindi thrillers which were intended to make you jump out of your skin, but in this case, your head throbs with a dull ache more than the film throbs with chills. By the time we get an explanation, we have pretty much twigged on to the 'mystery', such as it is.
Acting
Kay Kay Menon, as a cop who is hot on the trail of the murderer, who is also a romantic at heart, tries his best to salvage the show but we cannot deny the fact this is his most average performance till date. 
The talented Sharib Hashmi is the only one who manages to shine a bit. In fact, his confrontation scene with Menon is the best-enacted scene in the movie. Sadly, he is given to make bad jokes about corpses – he calls the one hanging upside down Batman, and complains that he cannot say "freeze" to another found in the snow.
Mandira Bedi as a poetess is an asset to any entertainment venue she is given to occupy. We just don't see enough of her. Not even in this film where she has a limited screen occupancy. And she makes the best of it.
Raima Sen, another beautiful and neglected actress, delivers despite the limited scope of her character.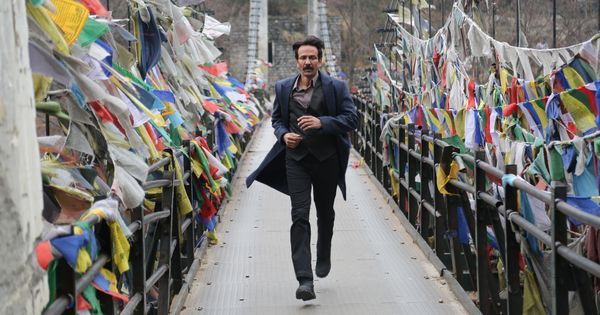 Worth a watch?
With a mediocre direction and a silly script, Vodka Diaries is a mystery best left unsolved for the sake of our senses. It's a sobering send-off to a suspenseful and original journey.