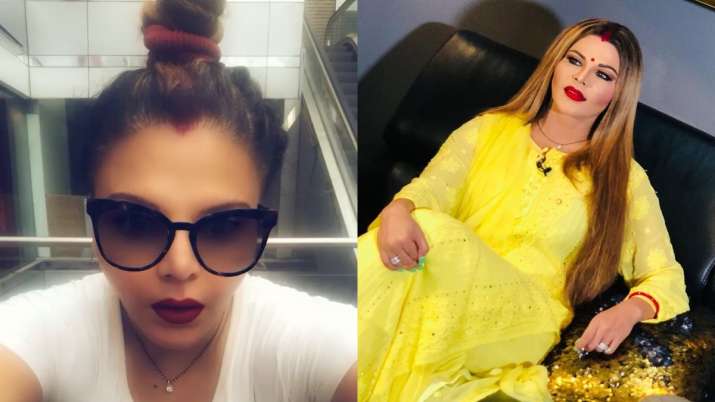 Controversy queen Rakhi Sawant knows how to stay in news. Her wedding with NRI Ritesh is still in doubt, however, she claims herself to be married. Recently, Rakhi Sawant has shared a video bidding adieu to her fans as she leaves for UK to settle with husband. She urges her fans to make her latest item song Chappan Churi, trending at the top. 
Listen to Rakhi Sawant's Chappan Churi song
Recently, Rakhi Sawant was in the news for dancing in a transparent dress at the launch event of her song Chappan Churi. Claiming that she was unaware that her dress was transparent, the actress cried and apologized to her fans. She also confessed that her life is in a mess due to her transparent dress, her husband fails to understand her. Well, who knows the truth, when it comes to Rakhi Sawant!
Rakhi Sawant has been staying in Bangalore with her in-laws and finally going to UK to settle with her husband. Her marriage has been a private affair and no traces of her husband has been found yet on any social media platform. Is she deliberately keeping the identity of her husband secretive?
Rakhi's marriage with Ritesh led to a lot of controversy. Her rumoured boyfriend Deepak Kalal went furious after knowing about her wedding. He shared multiple videos on his Instagram account to defame her and bring her back. However, Rakhi like a loyal wife remained didn't get threatened by Deepak and his warnings.
In fact, Rakhi Sawant's sister-in-law, slapped Deepak in public to take the revenge for all his misdeeds to the actress and Ritesh.
More Bollywood stories and picture galleries
For all latest news and updates, stay tuned to our Facebook page