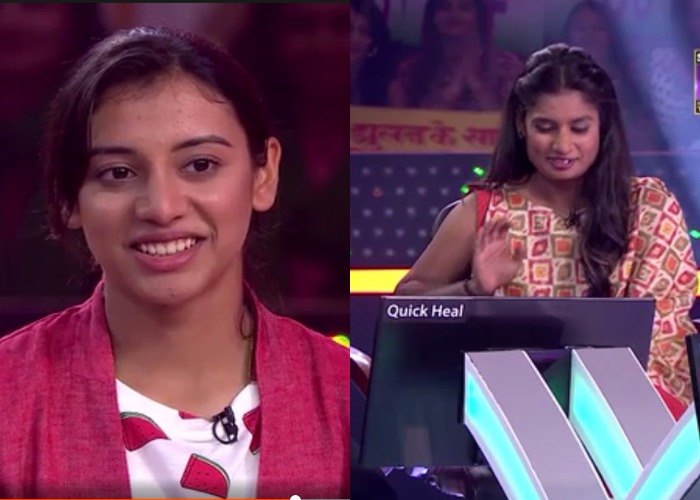 Last night's episode started with a quizzical round with Neha Kumari, from Nalanda, Bihar. Amitabh Bachchan greets everyone with his regular enthusiasm. This season, KBC will start a new initiative 'Nayi Chaah, Nayi Raah'. Under this cause, Big B will invite some special guests every Friday to celebrate the special segment. To mark the beginning of this social initiative, Amitabh Bachchan announces the arrival of Indian Women's Cricket Team on the show. Indian skipper, Mithali Raj makes a grand entry on the show with her entire women's squad. The episode stores a plethora of fun-loaded moments as well as candid confessions for those who love cricket, and also for those who don't. Let's see how last night's episode of KBC unrolled. 
Neha Kumari consumed her three lifelines in her last episode, winning Rs. 40,000. Kumari got the 7 questions right on episode 4 of KBC, but unfortunately, she used her three lifelines, which is a big loss for a contestant sitting on the hot seat. But the joyful woman didn't stop smiling, for which Amitabh Bachchan appreciates her. The episode stores a heart touching moment when Neha's husband gets on the stage with a guitar in his hand. He croons 'Jab Koi Baat Bigad Jaaye' for his beautiful wife. Neha Kumari rakes in Rs. 25 Lakh on the show. 
Then, the host invites Indian women's cricket team, which won millions of heart with their spectacular performance in 2017 Women's World Cup. Mithali Raj and his entire team were welcomed affectionately by Amitabh Bachchan on the show. The show adopted the T-20 theme, in which Mithali Raj chooses the opening batsman to debut the game. Smriti Mandhana and Poonam Raut begins the game with Mr. Bachchan. 
Also Read: Meeting Amitabh Bachchan was an astounding experience: Mithali Raj
Smriti and Poonam continued the game for a while, after which Mithali and Veda Krishnamurthy takes over. Together, they helped the team to rake in Rs. 40,000. Mithali Raj shares some anecdotes of her early life and how she evolved to become a cricketer as great as she is now. She was a lazy girl, and so to help her get rid of her sluggishness, her father enrolled her into a cricket academy. The team also shares some dressing room secrets as well. 
Jhulan Goswami and Harmanpreet Kaur takes the game forward with Big B and manages to win Rs. 3.2 lakh for the team. The show had it's best moment when Amitabh Bachchan impromptu rings Arijit Singh and makes him talk to Smriti Mandhana, who's his biggest fan. Not only this, but the ace singer also sings her favourite song 'Channa Mereya' over the phone. 
Also Read: Harmanpreet Kaur presented with car for World Cup show
Mithali Raj succeeds the hot seat with Deepti Sharma to win Rs. 6.4 lakh. This round consumed their last life line as well. In the end, Amitabh Bachchan proudly thanked the Indian women's cricket team that they took out the time to make an appearance on the show. All the money made by the cricket team was donated to an organisation called Prayas in Hyderabad. Their coach, Tushar Arothe was a special guest on the show. So this is how last night's episode of Kaun Banega Crorepati 9 unfolded. For more updates on KBC 9, stay tuned with us on India TV Showbiz. 
Also Read: Kaun Banega Crorepati 9 episode 4: Amitabh surprises a contestant by making her speak with Abhishek