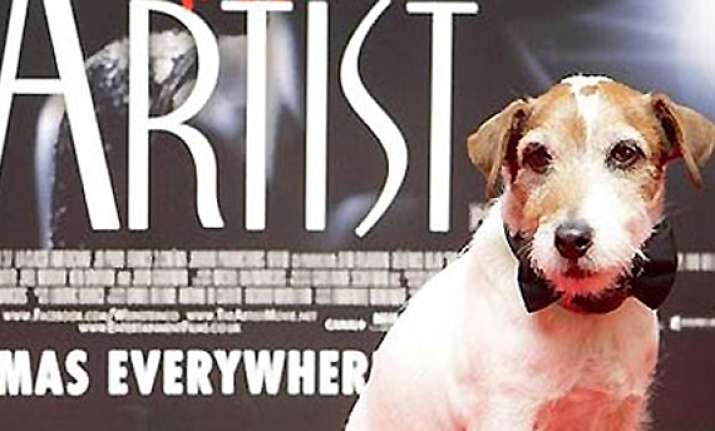 Los Angeles, Feb 1: A cute, trick-performing Jack Russell versus a snarling, orphan-chasing Doberman — a potentially ugly Oscars dog fight is squaring up on Hollywood's red carpet.

Even as Tinseltown's A-listers vie for Academy Award glory, a contest for the canine equivalent — the Golden Collar — which seemed sewn up, has been ripped wide open.
And by Martin Scorsese, no less.

The clear frontrunner has long been Uggie, the hero of silent movie "The Artist," which is snapping at Scorsese's heels with 10 nominations against 11 nods for "Hugo" at the February 26 Oscars show.

To add to Uggie's aaah-factor, his owners announced last week that the 10-year-old dog is retiring after his turn in "The Artist," in which the four-legged friend notably saves his master's life from a fire.

But "Goodfellas" director Scorsese — no stranger to intimidation and graphic violence — has weighed in demanding that Blackie the Doberman from his top Oscar-nominated film "Hugo" be included as a last-minute nominee.

The snarling Blackie belongs to the station inspector, played by "Borat" star Sacha Baron Cohen, who chases parent-less children to be sent to an orphanage in "Hugo," set in Paris.

Scorsese admits that, while Blackie would win paws-down in a fight, he may have problems winning sympathy against the cute dog from French-directed "The Artist," a tribute to the silent movie era.

"I have been cautioned against speaking out on this issue lest I create the appearance of churlishness. Well, I'm going to have to risk it," Scorsese wrote in an open letter to the Los Angeles Times newspaper.

"One recent morning, I turned on the television, and imagine my surprise when I heard the nominations for the first Golden Collar Awards for Best Dog in a Theatrical Film."

"After all, we had Blackie the Doberman in our movie. How could she not be nominated? I listened in vain for Blackie's name to be called, and then to all the hullabaloo over a certain Jack Russell terrier named Uggie." Actually, he admitted: "Uggie is so adorable that he received two nominations for two separate pictures. Well done." But he continued: "OK, let's lay all our cards on the table. Jack Russell terriers are small and cute. Dobermans are enormous and — handsome.

"More tellingly, Uggie plays a nice little mascot who does tricks and saves his master's life in one of the films, while Blackie gives an uncompromising performance as a ferocious guard dog who terrorizes children.

"I'm sure you can see what I'm driving at." Layering on the irony, he added: "I detect another, more deep-seated prejudice at work. Jack Russell terriers were bred in the 19th century for the purposes of fox hunting by an Englishman, the Reverend John Russell.

"Dobermans were bred by a German tax collector who was afraid of being bludgeoned to death by the citizenry. But does that mean we must condemn the entire breed?" He concluded: "In short, I protest the omission of Blackie the Doberman from the first Golden Collar nominations. Moreover, I encourage all Times readers to make their preference known to the editors of Dog News Daily by write-in ballot and give Blackie the nomination she so richly deserves." Responding to the letter, Dog News Daily editors said they would accept Blackie's nomination if 500 people backed the "Hugo" star by "liking" the canine-loving website's Facebook page.

And late Monday, the website hailed the write-in campaign as a "golden success," saying Blackie had been nominated after hundreds of people had posted "I nominate Blackie" or the equivalent on the Facebook page.

The 1st Annual Golden Collar Awards ceremony will take place on February 13 in Los Angeles, with red carpet arrivals and a private cocktail reception benefiting Los Angeles area dog rescue organizations and shelters.

Other nominees include Cosmo from the movie "Beginners" and Brigitte, aka Stella, in the TV series "Modern Family," according to a press release on Dog News Daily's website.

If Uggie wins it would not be the first award for the celebrity canine, who was showered in glory last year at France's Cannes Film Festival. There, echoing the top film prize the Palme D'Or, he was given the Palm Dog.