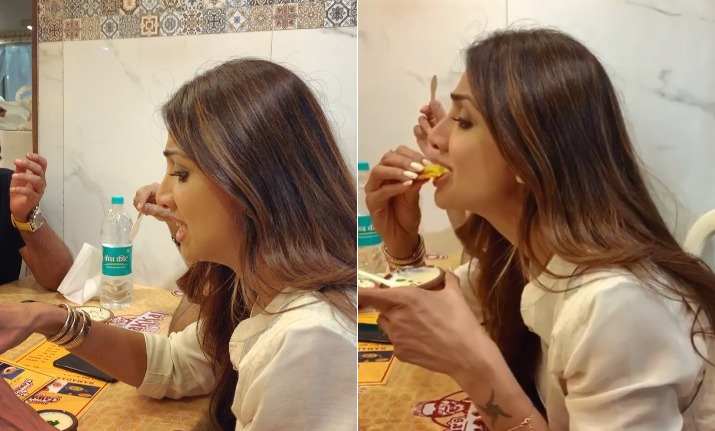 Bollywood actress Shilpa Shetty is definitely one of the fitest actresses in the industry. Despite being a mother of a son, Shilpa maintains a well-toned figure, without having to do much. Thanks to her ectomorph body type, the Super Dancer judge is one of the luckiest people in the world who can eat without getting fat. However, despite this, Shilpa Shetty maintains a healthy diet not only to stay in shape but to live a healthy life. If you've been through her Instagram, you must know what a fitness freak Shilpa is. However, on Sundays, the actress makes sure that she indulges in a cheat diet. Usually, she's seen munching on street food that are loaded with calories. 
On Saturday, Shilpa Shetty shared a video from Mohammad Ali road where she can be seen enjoying a mouth-watering dish called Malpua Rabri with her team. She wrote, "Come to #mohammadaliroad after 25 years.. this place is bustling with energy and people clamouring to eat the tastiest food and dessert to break their fast during this holy period of #ramzan . So I threw caution to the wind and hit the road and broke the rule of ONLY #sundaybinge as #Sunday came early .. Today it was irresistible, starting with dinner @noormohammadihotelmumbai ,dessert @shabbirstawakkalsweets . Menu had #malpua #rabdi #phirni #malaikhaja. Stuffed and gone into a #foodcoma.. But worth it.. Once in a while it's okay to #cheat .. only with food." 
The video has clocked more than 900,000 views on Instagram. Fans are commenting that Shilpa is lucky to be able to eat so much and never gain an ounce. 
Later, Shilpa Shetty shared a video thanking her fans for making her followers 11 million. She wrote, "Time is 11:11, and we are a family of 11 millllliiioooonnnnnn instafam. 11:11 denotes the angels are watching over you and one should make a wish.
My wish is we all grow healthier , happier and stronger together. 
Can't contain myself. Love you all 
Thankyou for making me feel so special."