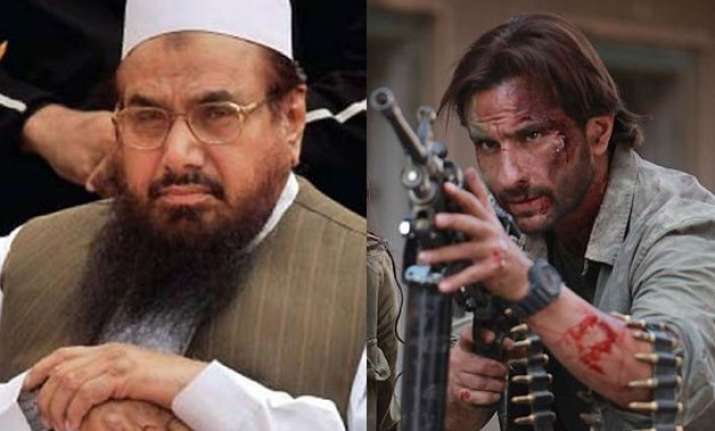 Saif Ali Khan's next flick Phantom is making waves since the day its trailer released. This film is woven around the aftermath of the 26/11 attacks on Mumbai. The movie showcases Saif Ali Khan and Katrina Kaif as two secret agents on a mission to eradicate the terrorist groups of Pakistan behind the attacks.
The movie made it to the headlines once again when Jamaat-ud-Da'wah chief Hafiz Muhammad Saeed asked for a Pakistan ban to its release. According to Saeed, these movies against Pakistan are a part of Indian terrorism in Pakistan. The movie has Hariz Saeed as an antagonist who resembles Hafiz Saeed uncannily.
At a press conference, Saif Ali Khan opened up about this ban. He said, "I was not surprised when Hafiz Saeed demanded a ban on Phantom. A movie of this kind was bound to be banned in Pakistan."
He also added that he has seen some videos of Hafiz Saeed which are full of hate speeches. Emphasising on the team of this movie, Saif pointed out, "Three Indian Muslims are associated with this movie, Sajid Nadiadwala, I and Kabir Khan."
Saif condemned the terrorist attacks on Mumbai which shook the entire nation. He said, "When Mumbai was attacked Taj was being burnt and all of us saw that. It should not happen again. Something should be done about such infamous terrorist attacks so that they think twice before executing such a horrendous act."
He also felt that the ban will not stop people from watching the movie. "If the movie is banned, people will resort to CDs and DVDs to view it. The movie has been shot very realistically."
Saif Ali Khan is paired with Katrina Kaif in 'Phantom'. Talking about his wife Kareena and co-star Katrina's equation, he said, "Both of them praise each other and there aren't any problems between them."
Directed by Kabir Khan, Phantom will release on August 28.