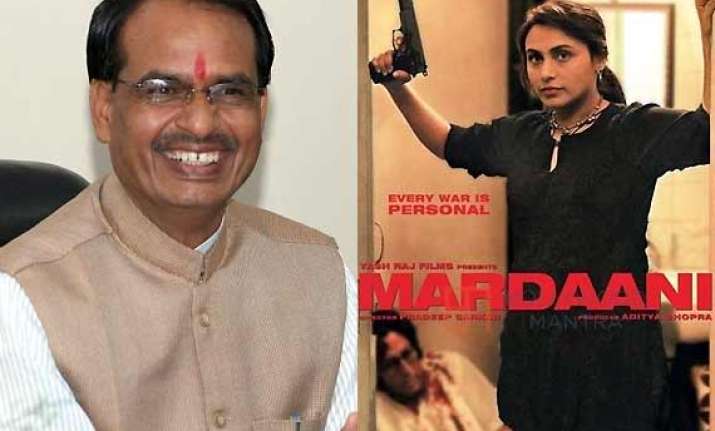 New Delhi: Rani Mukerji's 'Mardaani' might have unexpectedly got an 'A' certificate from the Censor Board but it received its due from audiences.
The movie is being appreciated throughout the nation with people from media as well as entertainment industry praising the effort by YRF films.
Madhya Pradesh govt. sensing the sensitivity of the issue took a decision to make the movie tax-free encouraging people to go and watch the movie.
CM Shivraj Singh Chauhan went on a spree to post tweets announcing the decision to get 'Mardaani' tax-free all over MP.
In his tweets he shared, "After a very long time went along with family to watch a movie.'Mardaani' turned out to be soul stirring saga highlighting a societal evil."
Not just this, the CM of Madhya Pradesh Mr. Chauhan also congratulated YRF productions, Aditya Chopra and Rani Mukerji for their effort to bring such crucial topics out in open with such great use of cinema, "I congratulate Rani Mukherjee for a wonderful and powerful performance in 'Mardaani'. Aditya Chopra has done well to produce this movie."
Raising his voice against the dark side of human trafficking spreading like a fatal virus in the Indian society Shivraj Singh Chauhan tweeted, "Trafficking of young girls and women is worst evil which needs to be eliminated.'Mardaani' has brought it into focus."
And with finishing off his praises for the entire crew and cast he added, "We will give 'tax free' status to 'Mardaani' in Madhya Pradesh considering the bold social message conveyed by it."
With such good work winning appreciation government must make the movie go tax-free encouraging larger arena of audience to watch such films.