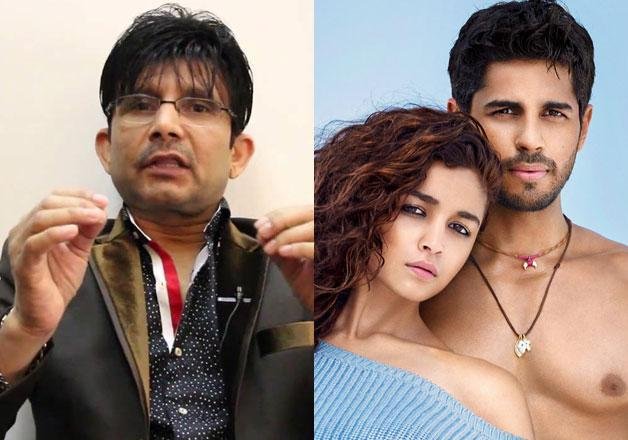 New Delhi: Bollywood actor Kamaal Rashid Khan is back with his mean tweets, this time targeting actress Alia Bhatt. KRK wrote shady things about Alia's dress which she donned for a photo shoot. Little did he know that Alia's co-star Sidharth Malhotra will give it back to him and ask him to shut up on the micro blogging website.
It all started when Alia and Sidharth's steamy photos broke the Internet yesterday. The rumoured couple turned temperatures high for a Vogue's cover. Many on social media were left awed by the pictures which had no dearth of chemistry.
However, KRK, choose to take a sleazy path, miles away from the admirers of the couple. On his Twitter account he commented on Alia's intimate wear saying she is a kid who is forced to wear it.
He posted, "Alia looks so Bacchi in panty but still some people keep forcing her to wear it."
His ridiculous tweet unleashed the 'Ek Villain' side of Sid who said that KRK should stay away from Twitter. Sidharth tweeted, ""Sir ! We also try very hard to tell u to shut up but u keep tweeting ! @kamaalrkhan."
What followed was a war of words between Sidharth and KRK.
KRK replied by writing, "Sir Ji @S1dharthM 130Cr ppl of India also try very hard to tell you to stop acting but you keep doing films to harass them."
 
To this, Sid wrote, "I think u need English reading classes sir! ,as u didn't read and understand my previous tweet!"
 
KRK further added, "HAHAHAHAHA! Ok I will come to learn from you soon because  you @S1dharthM are educated from Delhi idea institute."
This isn't the first time when KRK has started a Twitter controversy by commenting on an actress. He had started a Twitter squabble with Lisa Haydon and Sonakshi Sinha too in the past who gave him apt replies.
Gets one into wondering, will KRK ever stop?