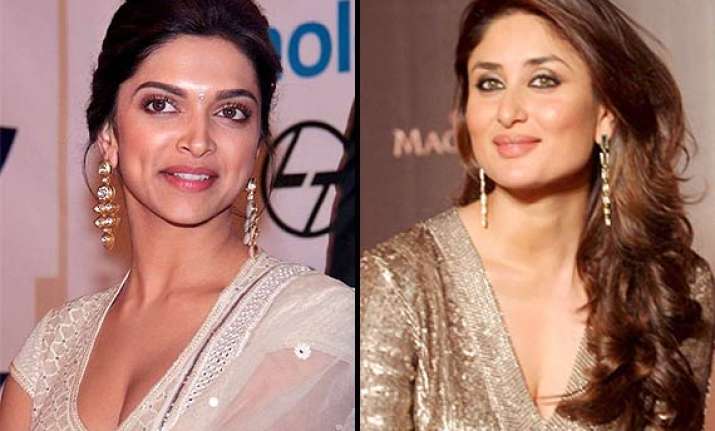 Karan Johar-Kajol, Yash Chopra-Madhuri and now it's Deepika and Sanjay Leela Bhansali as the next director-actress duo of Bollywood.
Both
Deepika Padukone
and Sanjay Leela Bhansali are still not over with the magical spell of 'Goliyon ki…Ram Leela,' and are confirmed to come together for the director's highly anticipated 'Bajirao Mastani.'
The  speculations were on that it will be
Kareena Kapoor Khan
who would be seen playing the lead in the film after her statement of showing keen interest to play the lead character of Mastani in the flick. Now, the buzz is that Sanjay Leela Bhansali himself has arrested all the rumours and confirmed Deepika as her heroine in the periodic drama.
Previously too, Kareena was about to play Deepika's character in 'Ram Leela,' but stepped out at the very last moment. May be that's the reason why Bhansali decided not to zero-in to her name for Bajirao Mastani.
Bajirao Mastani, will be an epic love story portraying the chemistry between the 18th century Maratha general Peshwa Bajirao and his second wife, Mastani. Despite Kareena's inclination towards the film, Sanjay Leela Bhansali chose Deepika to play the protagonist and instead offered Kareena the character of Bajirao's first wife.
If reports are to be believed, Kareena felt inferior accepting the role of a supporting part, Kashibai and rejected it instantly. Now, another Bhansali's favourite,
Priyanka Chopra
has been approached for this supporting character.
While the fans would be happy to see the mesmerizing 'Ram-Leela' chemistry of 'Ranveer-Deepika' in 'Bajirao Mastani' again; Kareena's fuming attitude towards this news would definitely be to-vouch-out-for!
We wonder is it Deepika's golden time on board or Kareena's term of downfall!