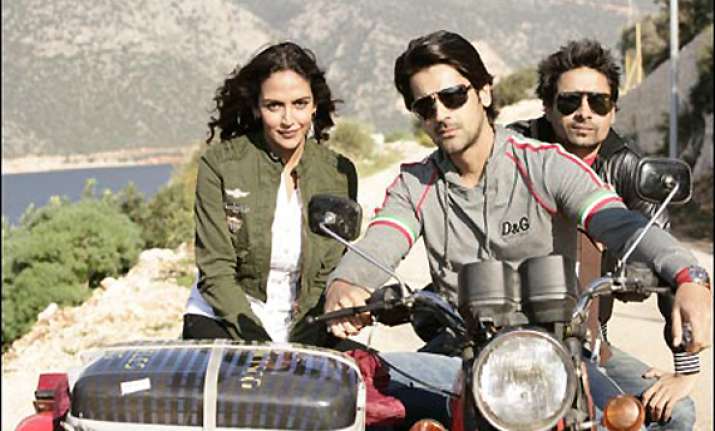 New Delhi, Oct 24: Arjan Bajwa, who is playing the male lead opposite Esha Deol in 'Tell Me O Kkhuda', says many in the industry had advised him against taking up the film.

The 'Fashion' star says he was unsure whether to take up the project or not as people said it wouldn't make a mark at the box office.

"I won't take names of people but then there were these industry bigwigs who advised me against doing 'Tell Me O Kkhuda'. They wondered whether I was making the right move of picking up this film. There were comments coming my way like 'no one will bother whether this film comes or goes'. All of this was being said when not even a single frame of the film had been shot," Arjan told PTI.

"It was disturbing because here we were a bunch of people all excited, convinced and motivated to do the film while detractors were just pulling it down for no rhyme or reason." The film was supposed to be released at least a year ago. The change in director around the film's completion mark resulted in the subsequent delay. Mayur Puri was at the helm of the film initially but producer Hema Malini took over the reins later on.

With it, a perception change took place when the film's promos were released and this re-launch vehicle of Esha Deol did not seem a small affair like many would have presumed.

"With the release of the film, all those who underestimated us will get an answer. No, I am not trying to prove a point. All I am saying is that never under estimate any film. There were a few glitches and technical delays.

However, when a film is made by someone as big as Hema Malini, it comes with some credibility at the least," said the 34-year-old actor.

"Most people who hadn't seen the film assumed that this would be a small film shot majorly in a studio. On the other hand we have traveled across the globe and made it a real big film. I wanted audience to get that message so that detractors could finally go quiet," he added.

Arjan does acknowledge the contribution made by Mayur, the original director of the film. "He is a good director and had shot 80 per cent of the film. Now Hemaji has shot a few new scenes and also re-edited it since she felt that some points made by Mayur went a little off track." With Chandan Roy Sanyal in a supporting role and Dharmendra, Rishi Kapoor and Vinod Khanna as the other veteran actors in the film along with Farooq Sheikh, 'Tell Me O Kkhuda' releases all over on October 27.