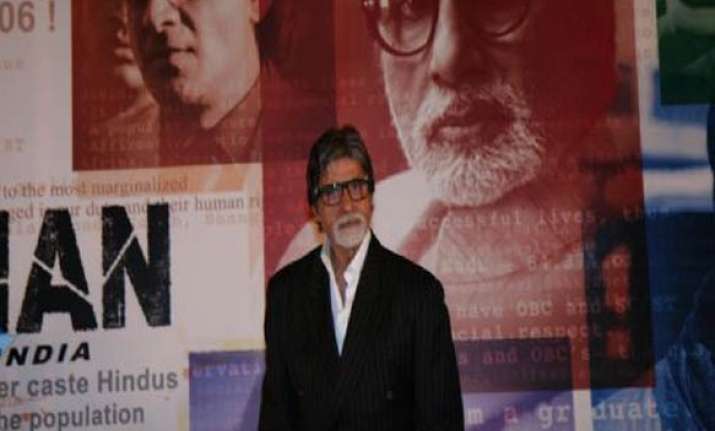 Filmmaker Prakash Jha has saluted Amitabh Bachchan for his role as a principal in his film Aarakshan.For Jha, Amitabh Bachchan never ceases to amaze with his histrionic oeuvre.

After playing 13-year-old Auro in Paa and an angry old man in Bbuddah Hoga Tera Baap, Big B will be seen in Jha's next as the principal of an educational institution.

Says Jha, "Amitji has the presence to fill the screen; he has the confidence to tackle diametrically opposite characters in the three films you are referring to.

"He can go beyond ones imagination. While watching him as Auro,not even for a second do you actually think of Amitabh Bachchan the superstar."And in Aarakshan he will surprise the audience with the simplicity of his conviction."In Aarakshan, Big B is someone who is on the verge of retirement, a strong, principled man who heads an institution.

Adds Jha: "If you follow Amitji's career closely, you never think will this actor be able to do this. The way he acclimatised himself to play Auro is something that continues to fascinate me.

"Likewise with Aarakshan, the moment I came across the story of this principal who is a hard, tough, erudite man who will bend at nothing, only one actor came to my mind. Obviously Amitji.

"Even when I had just the sketch of this story I knew he was best suited for the role. So I ran up to him seven years ago and told him about it.

"I must tell you about this particular scene in my film in which he tells the minister that he cannot help his nephew and absolutely refuses to bow down to pressure; the next minute he walks into the back of the verandah where a bunch of college kids seek his help and he just melts.

"So you get to see two shades of a character within minutes. And I'm sorry to sound awestruck, but he just blew my mind with his versatility.

Jha sums it up by saying, "My job is to inform an actor but the way an actor interprets his part is his job.And all I can say is that you have to see to believe what Amitji has brought to my film. "