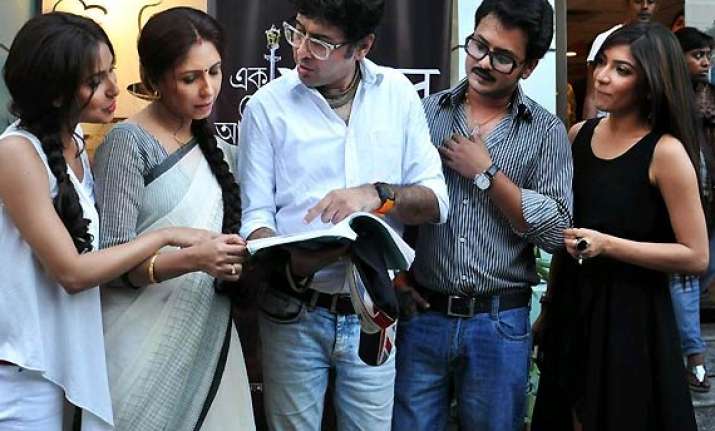 Kolkata: Bringing out in the open the dark underbelly of the city, Ek Je Achhe Sahar by director Ringo for the first time turns the scanner on  the escort service girls in Kolkata, facing abuse and violation of their womanhood every day.
The 'Na Hanyate' actor  Sayani Dutta essays the double-edged role of a call centre girl, from a lower middle class Bengalee family, who also works as an escort for high profile clients in evening hours.
"Despite not knowing much about these girls personally, I could sense the ignominy being a woman who faces humiliations, taunts and exploitation in this society. I could identify physically with the call centre woman, struggling hard to keep the home fire burning, but for the escort girl forced to eke out a living I went by what the director said and whichever reports I came across about such girls," Sayani said on location shoot of 'Ek je Achhe Sahar' here yesterday.
"If you ask if my character has resemblance with Park Street rape victim not in that way. But I would again say every such girl  are faced with some experiences in life and characters are fleshed from real life accounts," she said. On sharing screen space with Deb Shankar Halder, who works in a radio station and frequents the coffee shop which she visits with a friend who coaxes her to join the escort service, Sayani said, "We worked together in  Na Hanyate." "Again, we are turning up together. One whose character  lends an ear to my woes as the 'listening chamber' in the movie.  And it helps one to grow and evolve as an actor. Debshankar Halder, Soumitra uncle (Chatterjee in another film Jijibisa), every day," Sayani said.
Actor June Maliah is in another important role of Ek Je Achhe Sahar, having shades of 'Life In a Metro' in essence, both projecting the warts of an intriguing city.
"But the film also seeks to capture the dichotomy or contrasting façade of the IT hubs, luxury hotel lounges and the narrow alleys of north Kolkata with the Shyambazar five point crossing, Shyampukur and parts of Hatibagan almost recreated in a giant set in a south Kolkata studio replete with tin-pot archaic buses frequenting that part of the city and brick-layered tram lines," Ringo said.