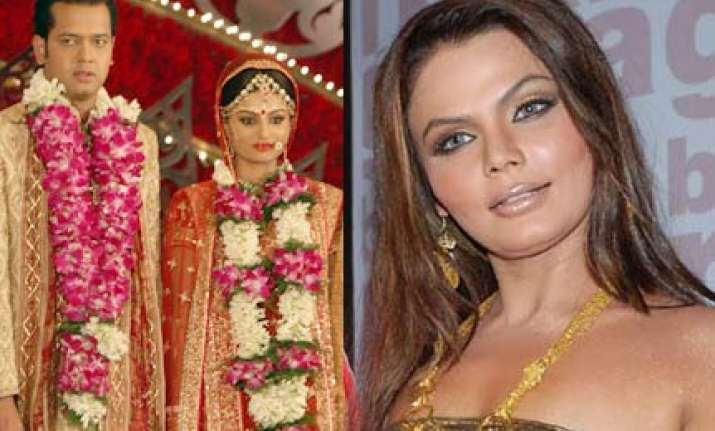 Rakhi Sawant, whose televised swayamvar created waves, has criticised Rahul Mahajan and Dimpy for getting married in the same manner .For someone who wanted to choose her husband through a swayamwar on TV, Rakhi Sawant seems unusually perturbed at Rahul Mahajan's wedding, reports Mumbai Mirror.  
"How can one marry by choosing his or her soul mate through a public voting system?" wonders Sawant, probably harking back to her own short-lived engagement with Elesh Parujanwala, chosen via public votes in the last season of the same TV series that Rahul participated in. 
"Dimpy bali ka bakra ban gayi hai. There is a huge age difference between Rahul and Dimpy. I am sure that this will lead to differences between them. Also Rahul's temperament is very volatile and everyone cannot tolerate that. In fact, Rahul should have thought twice before marrying Dimpy because of these reasons. Very soon, you all get to hear that Rahul aur Dimpy ka separation ho gaya hai," she says. 
"As I earlier said that it is really difficult to choose a life partner through a public poll. I thought of only getting engaged with Elesh instead of marrying him so that I could get more time to decide. But as time passed, I started feeling that he was not the right person for me. He just wanted to marry me because he wanted be part of my glamorous life. Things got so bad that now I really hate him," informs Rakhi. Rakhi might have had done a lot of films but somehow she has failed in proving herself as a serious actress. 
"I have really worked hard for building my image in the industry and this I have done without having any godfather to promote me. Being a full time actress is not something I aspire to. You never know, one day people will see me in parliament. The benchmarks of success are different for me. I started as an item dancer and today I have turned a businesswoman by launching a beauty salon and by establishing a studio. I am happy with what I am doing," says Rakhi.