Follow us on New Delhi: Everyone talks about how to turn a normal wedding into big fat wedding but as weddings are turning bigger, the wedding invite has also gained some weight.
While unique invitations are popular, the wow gifts that accompany the invite are also becoming popular.
These wow gifts mostly include edible things like chocolates, dry fruits and other sweets. No doubt these lavish invites get a bit too much on pockets but as it is said that wedding invitation is all about setting the guest's expectations for a wedding.
Main Image Courtesy: www.swanswedding.com
So to see a bright smile on your guest's face is priceless. Belgian chocolates, roasted nuts, sugar & chocolate almonds, dates, baklava, and other confectioneries are the most popular stuffs, which accompany wedding invitations.
Here are five things that will make your wedding invitation even more tempting for your guests.
Sugar coated almonds- Almonds are loved by all and when dipped in sugary syrup, it tastes 100 times better. If you are looking for a traditional wedding invitation gift, nothing than sugar coated almonds placed in a pretty box, or wrapped in tulle.
Sugared almonds, as the name suggests, are plain almonds coated in a sugar candy. While the tradition of giving sugar coated almonds started in Italy, it is popularly followed in India.
Almonds have a bittersweet taste, which is thought to represent life's up and downs.
The sugar coating illustrates the wish that the couple's married life will be more sweet than bitter. So, not just it tastes amazing but the concept behind it is also pure.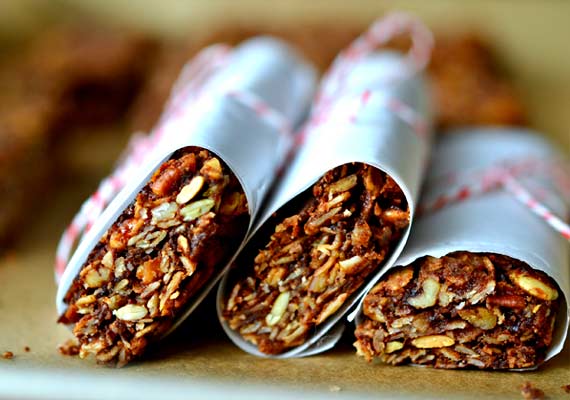 Natural homemade fig with nuts bar- As the name suggest this recipe is grand and unique. These are nuts bar which are stuffed with homemade figs.
When placed in a beautiful box, these bars look tempting and we are sure your guests will be amazed after getting such appetizing wedding invitation.
Not just it will impress your guests but it will also give a sneak-peak that how lavish and grand your wedding is going to be.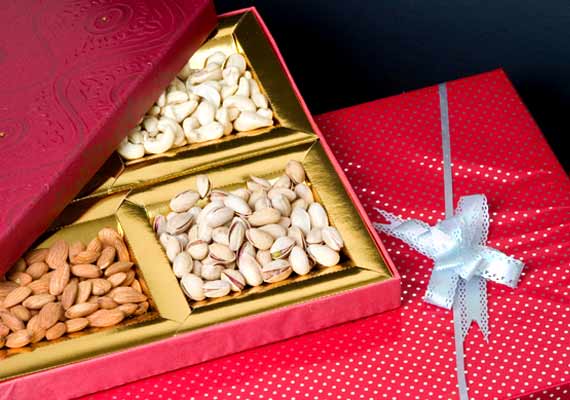 Roasted dry fruits- These are easily available wow gifts. Though very common in use, roasted dry fruits are still very popular and loved by Indians.
Placed in a beautiful box, basket or wrapped in tulle, these are the best option for sending long distance invitations.
The grandiose presence of dry fruits and aroma will make your guests mesmerize as soon as they open the box. Indeed it's tempting!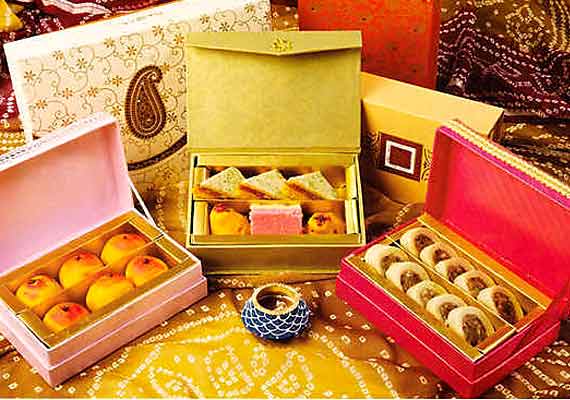 A traditional mithai- Nothing better than a traditional mithai can add colours to your wedding invites.
Since a traditional mithai has connection with your culture and community it will always have a special corner in your heart.
This gesture will not only make your relatives happy but it will also give a glimpse of your traditional wedding to the guests who are from different culture.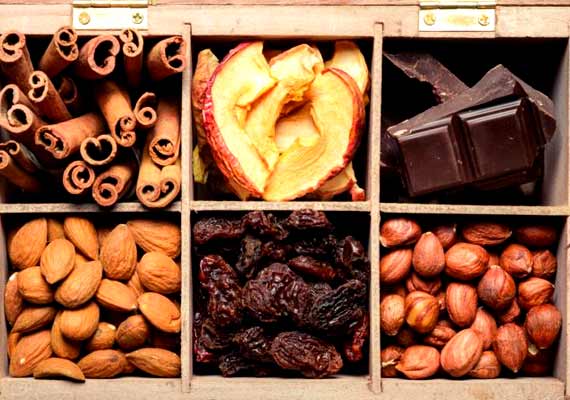 All-in-one box- Well, all-in-one box is like a treasure box, which can have a little of everything. You can send a box with your wedding card filled with chocolates, dry fruits, candies and other edible things.
Orange peel date, almond date, silver coated almonds and chocolates are healthier alternatives.