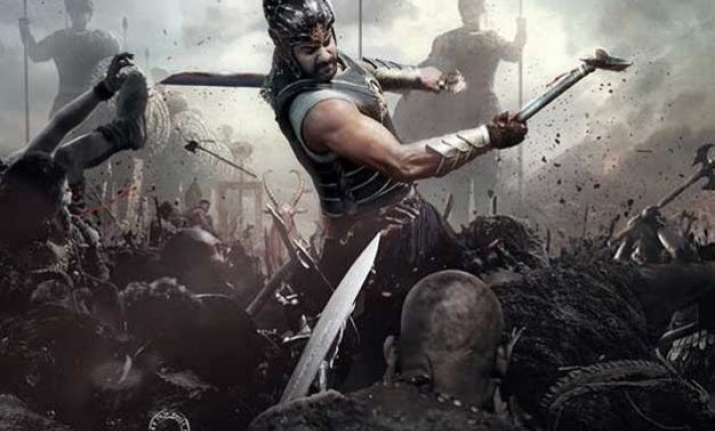 SS Rajamouli's first installment of Bahubali is finally out. The buzz surrounding the movie has made it the talk of the town. So whether the hype around the film is justified, whether it is the first pan Indian movie or it's another big splash of money masquerading as a piece of art . Here is our review.
Film tells the story of a young man with superhuman abilities Shiva (Prabhas), a prince oblivious to his royal lineage, raised by a tribe after being smuggled out of his kingdom. Shiva is in love with Avantika (Tamanna Bhatia) who is an assassin in a rebel group living in a hideout.
Shiva paints tattoos on her arms but surprisingly the super observant lady notices it only after he lefts. Shiva makes her aware of her latent beauty and youth in 'Legend of Zorro' inspired striptease.
Avantika's rebel group is committed to bring back their queen Devasena(Anushka) who has been held as a state prisoner in her own Kingdom by evil King Bhallaladeva.  Shiva pledges to bring back Devasena (Anushka) who is also her mother.
Also Read : 15 lesser known facts about Baahubali
Shiva , the one man army takes on the entire army head on and what follows next is some epic battle sequences and  breath-taking visuals.
Later, Shiva is told about his true identity and then the film moves in flashback depicting the story of two brave princes Bahubali and Bhallaladeva and their rivalry. Both were great warriors but Bahubali with his kindness won hearts and becomes the king.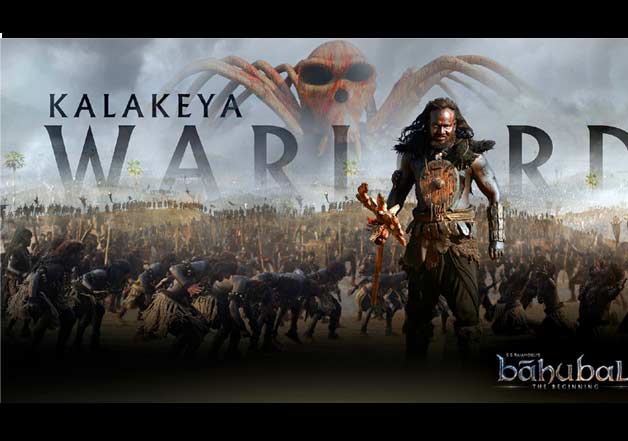 The film's crucial characters have drawn out from Mahabharata and cast is dressed like the characters of Amar Chitra Katha.
The film has a mind-blowing opening sequence,where a woman is shown coming out of a cave holding a baby in one hand and torch in another at foot of a gigantic  waterfall, this one visual would leave you stunned and raise your expectations from the film.
The story line up is quite interesting but the film slows down a bit before interval  but it is the second half of the film that viewers will find very engaging and that suffice for the minor lapses in the first half especially the last 15 minutes of the battle scene is no less than a spectacle.
It is blatantly clear that film's aesthetics are strongly influenced by Hollywood epics Lord of the Rings, 300 and Troy but still Rajamoulli has been able to deliver a film whose soul is original.
Also Read: Bahubali: Is Rs 175-crore-budget film inspired from Hollywood?
Prabhas delivers a performance of a lifetime showing exceptional control over his craft. From an innocent tribesman to a lover to a warrior, his portrayal of Shiva  will long  be etched in viewer's  memory.
Anushka Shetty's portrayal of imprisoned queen (having shades of  Bollywood's quintessential Maa  Rakhee ) seething in anger will make your heart quiver , the dread in her eyes would remind you of  Vidya Balan's Manjulika.
However, Rana Duggabati's portrayal of evil  Bhalladeva leaves a lot to be desired ,it could have been much better. His dialogues especially  in presence of Prabhas are very minimal. We hope in the next part he gets some dialogues.  Tamanna Bhatia as Avantika has an interesting role to play but she tries too hard to emote that makes her renderings little artificial.
Also Read: 5 reasons to watch Baahubali
 A noteworthy mention: In the entire film you will hardly notice that it's dubbed except for a few songs, it's a welcome departure from regular south Indian flicks where Hindi dubbings are often ridiculous.
 MM Kreem's music and background score are both top notch, there are moments in the film when the extraordinary visuals well supported by background score will give you goose bumps.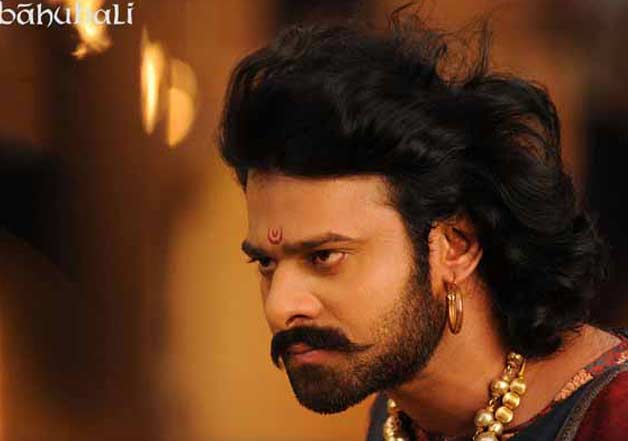 Besides, KK Senthil Kumar's deserves a bow for his exceptional camerawork, in the opening sequence where the shot involving of elevating camera on top angle between two pillars when Prabhas enters is stunning  ,  it's a treat to the audiences and a lesson to the budding cinematographers.
V Srinivas Mohan's VFX work is pretty decent even by the Hollywood standards, it's ground breaking work in Indian Cinema.
  Kotagiri Venkateswara Rao's editing, Peter Hein's choreography of action and war scenes, Sabu Cyril's art direction, Rama Rajamouli's costumes are on par with Hollywood.
But above all, Hats off to director's SS Rajamouli's vision, both his direction and screenplay is excellent. The scale of detailing, sheer hard work that has gone into the film and the final product are commendable.
 It's a full paisa vasool film, with some of the best visuals and fight sequences ever seen in Indian cinema. The film deserves a watch at least for once.
Here is the film's latest trailer: