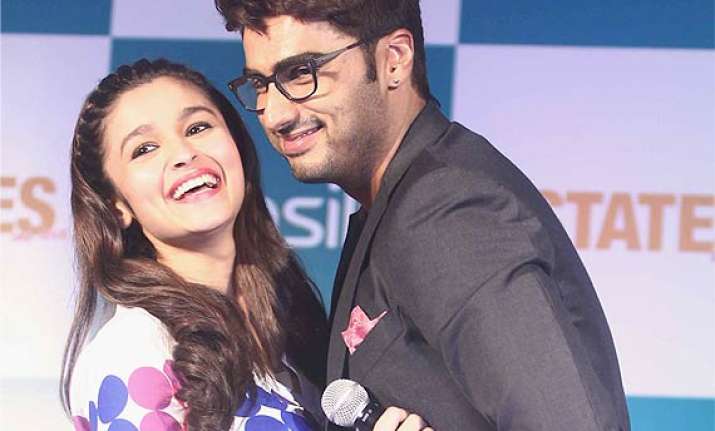 Arjun-Alia, the raving couple of B'town these days is all busy promoting their upcoming, '2 states.' While the movie is garnering enough limelight due to the couple's steamy chemistry shown in the film, both Arjun and Alia seem to be avoiding questions on their relationship.
The rumours were on since a long back that the duo is pretty much compatible with each other's company and they are even spotted together time and again whether at private functions or at various public events. Now since so much of bond is there for all to see,
Arjun Kapoor
amidst all the happy buzz of his relationship with Alia seems to be behaving a bit upset from this news.
Arjun's stark and sarcastic reply recently generated a lot of hoopla around his relationship with Alia, his rustic words surely portrayed him a bit more rude.
When asked that does the couple bonds well, Arjun sarcastically replied, "Yes you are right. We get along well. And when we work on a horror film, we will hate each other during the promotion! What do you expect?"
As we told you how much Arjun felt offended while answering a question about his bond with Alia and how much sarcasm did he involve in his answers, here follows a few pictures portraying the incredible chemistry between
Alia Bhatt
and Arjun Kapoor.
As they say, there is no smoke without fire, Alia-Arjun's chemistry too seems to be crossing the level of affections with their every other appearance in public.
Well, we'll say that we only talk about what we see! Take a look at the pictures and know what they say!
And while the alleged lovers are seen getting quite comfortable with each other at various promotional events, it is for the first time that Alia Bhatt and Arjun Kapoor got way to cozy.
The couple who will be seen together in their next will be sharing very cute moments together. We got to witness some great rapport between the two when they visited a radio station for promotion.

Alia and Arjun have been linked together ever since the news broke out of them romancing each other in their fick.

For a long time they avoided speaking on anything about the relation. But we must say they look cute together. Not only in the film but off screen too the couple definitely shares an electrifying chemistry.


With their sizzling chemistry and lip locking, promos are already a big hit. In the movie Alia Bhatt plays a south Indian girl while Arjun plays a Punjabi boy Krish.

Arjun too appears a bit protective for Alia and has been observed taking care of her as they visited many places to promote their '2 states.'
Whatever is cooking and even if not is cooking, we give a thumbs up to this jodi and wish them best for their movie.

Both Alia and Arjun looks like a picture perfect couple.