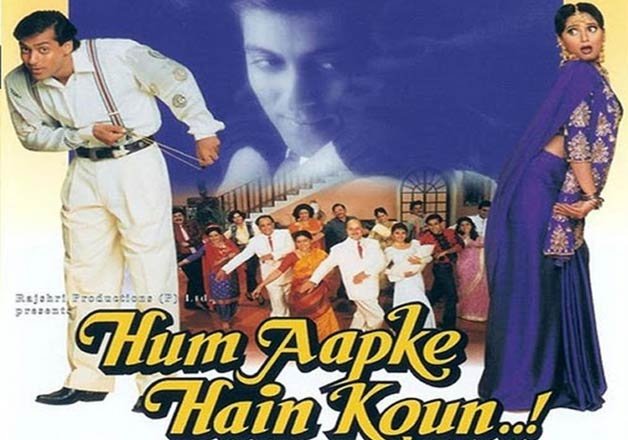 The Salman Khan and Madhuri Dixit starrer "'Hum Aapke Hain Koun" has completed 21 years since its release. The fans of the movie have taken to Twitter to make #21HistoricYearsOfHAHK a trend.
21 years is a really long time in Bollywood where if a movie stays in the hearts of audiences for a little over three weeks, it is termed as a blockbuster. Going by these standards, Hum Aapke Hain Koun has definitely surpassed the superlative adjectives to describe a hit movie.
Directed by Sooraj Barjatya, this one had an ensemble which included the regulars of the Barjatya banner like Alok Nath, Reema Lagoo, Ajit Vachani, Satish Shah, Himani Shivpuri, Laxmikant Berde, Renuka Shahane and Mohnish Behl.
Yet this was unlike any other movie that Rajshri productions made.
Despite the fact that it was a remake of Rajshri's own 1982 release, Nadiya Ke Paar, this movie left a deep mark on the viewers.
So, what was it about this movie that made it an evergreen watch? Was it the traditional values the movie talked about, or the importance of family they imbibed, the melodious music directed by Raamlaxman, the groovy dance numbers or just the chemistry of the lead pair Salman Khan and Madhuri Dixit.
Maybe it was all blended perfectly.
A bubbly Nisha (Madhuri Dixit) falls for a charming Prem (Salman Khan). Just when their love story was about to reach its happy end, Nisha's elder sister Pooja (Renuka Shahane) married to Prem's older brother Rajesh (Mohnish Behl) passes away leaving behind a newly born son. The love birds agree to sacrifice their love and Nisha consents to marry Rajesh. At the climax, the family comes to know about Prem and Nisha and they decide against the marriage, uniting the lovers.
This movie went on to win many awards and proved a boon for Salman Khan who was going through a rough patch in his career. Nobody could have done the "ahem ahem" on phone better than Madhuri Dixit and no one could have made the song, "Didi tera dewar deewana" a superhit song other than this couple.
With 14 songs, all of which ruled the music industry, actors who brought characters to life, and a plot which was woven around Indian values, Hum Aapke Hain Koun is still fresh in our hearts as it was 21 years ago.
Prem and Nisha, we will love you always.