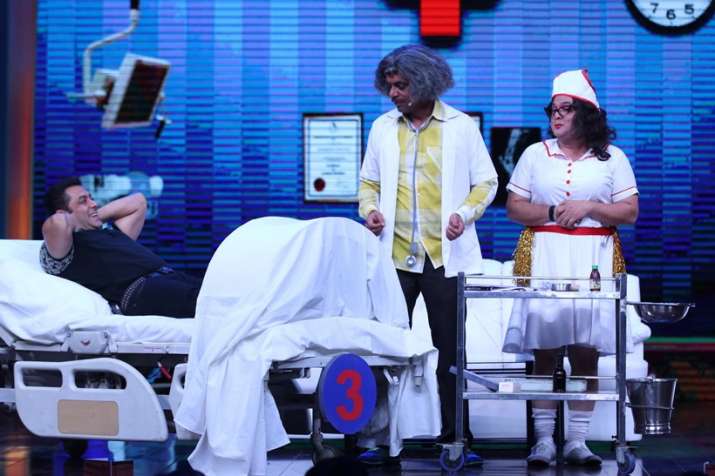 Super Night with Tubelight made an entry a day earlier and it was surprise for all the Sunil Grover fans. The show not only had a visual treat for the Sunil fans, but Salman lovers also got a special delight for themselves. The two-hour special episode aired on Saturday at 10:30 pm after The Kapil Sharma Show. After the tiff between the two lead comedians, the comedy love sect has been bifurcated into two parts. One who still has their interest alive in ace-comedian Kapil Sharma and the other who's the ardent follower of Dr. Mashoor Gulati. 
Here's how the public conceived the show Super Night with Tubelight 
As the much awaited special episode has been aired, the Twitter is flooded with a number of reactions about the show. The micro-blogging site is polarised into two groups, viz Kapil Sharma vs Sunil Grover. The Sunil Grover fans were expecting some slapstick humour by the comedian as well as the Khans. But to their disappointment, the show had nothing new to offer. Here's how some of the disappointed audience responded:
This guy is should have been in Dutt biopic instead.😂 #SuperNightWithTubelight

— Soniya (@sonii_4sure) June 17, 2017
Some even believed that Sunil Grover repeated the history of Mad In India and even Salman Khan couldn't save the monotonous comedy. 
After wasting 15 minutes of my life on #SuperNightWithTubelight. #sonytv poor decision. #hutiyon ki fauj mein bechara #Tubelight love #TKSS pic.twitter.com/cafMO43pNz

— baba rancho (@Royalbaba99) June 17, 2017
People couldn't find a new angle in the two hour episode. 
#SuperNightWithTubelight Bilkul sahi nahi lga. Everything is fake. Bich me dance kya kar rha hai. Don't know what is going on

— Deepak Jangra (@jdeepak9) June 17, 2017
I guess, its the time to bring a new concept in comedy other than cosplaying and roasting. 
#SuperNightWithTubelight They have just managed to murder the 'Humour' :)Nothing new.Its downright disappointing & stupid. Accept it or not!

— Sumit (@Sumit16649) June 17, 2017
Admit it or not, Kapil-Sunil Jodi is being missed by everyone. Here's how people missed the good old days last night. 
#SuperNightWithTubelight Not that funny. Sunil& kapil as jodi are better. Hating the anchors "laugh", Its catching more attention than jokes

— Dr Pragya (@drpragya16) June 17, 2017
There were users who plainly supported The Kapil Sharma Show over Supernight with Tubelight
#SuperNightWithTubelight trying to find laughter:(

— Ram Deshpande (@ramdeshpande) June 17, 2017
The comedians were trying too hard to initiate laughter among audience. That's what made it look like a bit overacting. 
#SuperNightWithTubelight
Overacting ka overdose. CID is solely missed tonight. #TrassComedy

— Crime_Minister_GoGo (@Trollendar_GoGo) June 17, 2017
Finally the verdict has been made, Kapil Sharma and Sunil Grover are incomplete without each other. Reconcile you two, will you? 
Channel changed, damp squib .. @BeingSalmanKhan made wrong decision. Gulati is incomplete without @KapilSharmaK9 #SuperNightWithTubelight

— Ravi Shukla (@ravishukla1) June 17, 2017
The special episode was delightful to some extent but it didn't manage to live up to the hype. It could've been a blockbuster if it had something new to offer. Fans were expecting some fresh jokes, but the jokes cracked by Dr. Mashoor Gulati was past its sell-by date.