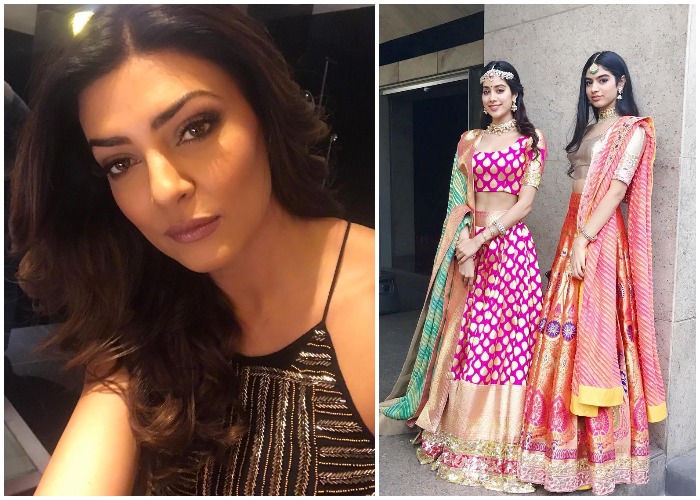 Bollywood is inconsolable at this point of time. It lost its finest gem Sridevi in a shocking accident. The 54-year-old hale and hearty Sridevi Boney Kapoor passed away in Dubai last week. The tragedy is just like the brightest star of the sky suddenly vanishes away, leaving the world with never-ending darkness. After attending the prayer meet, Hema Malini poured her heart out on Twitter. Now former Miss Universe Sushmita Sen took to Instagram to write this beautiful tribute for the late actress Sridevi.
She wrote, "Paid my respects & said my goodbyes to a lady who inspired in the 14yr old me...the love of #cinema #music #dance & the colour #white  #Chandni  My friend #Ruchi is right, I always idolised her onscreen persona...but today at the prayer meet, I witnessed the #strength of Ma'am #Sridevi in the way she's raised both her daughters, they showed immense courage, way beyond their years, as they silently & gracefully acknowledged everyone despite their own unimaginable grief.  Rest in peace Ma'am knowing you excelled in all aspects of life...I celebrate you, always will!! Dugga Dugga #khushikapoor @janhvikapoor #boneykapoor #healing"
Sushmita Sen was also among the many Bollywood celebrities who were there at Celebrations Sports Club to pay their last respect to Sridevi. She was seen with teary-eyes while leaving the premises. Sensing her grief, her close friend Ruchi sent her a text asking her if she's okay.
According to her post, Sushmita Sen idolised Sridevi Boney Kapoor all through her life. It was her who inspired her 14-year-old self to become an actress. In fact, Sridevi's 'Mere Haathon Mein' from movie Chandni was one of Sushmita Sen's favourite.
Sridevi Boney Kapoor passed away at 54 in Dubai. She was in the city to attend her nephew Mohit Marwah's wedding. According to the reports, she was found unconscious in a bathtub by her husband Boney Kapoor. Her autopsy reports claim that she died due to 'accidental drowning' following loss of consciousness.