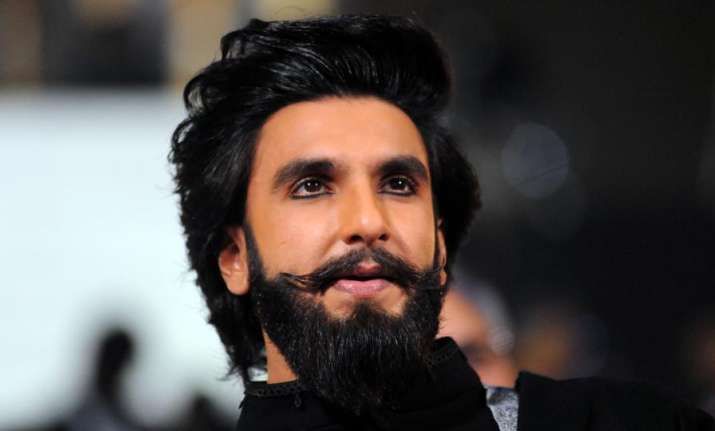 Much before its release, Ranveer Singh's next movie Padmavati is mired in controversy and it doesn't seem to end anytime sooner. The actor who is playing the role of an antagonist Allauddin Khilji- the second and the most powerful ruler of the Khalji dynasty, stunned everyone in the trailer. There were also reports that after wrapping up the shoot, Ranveer took medical treatment to come out of the character. Amidst all the chaos, Ranveer's recent tweet is creating a lot of buzz and Twitterati are having a field day.
Losing my religion pic.twitter.com/vYM68pz5nr

— Ranveer Singh (@RanveerOfficial) November 10, 2017
Ranveer shared a picture and captioned it ''Losing my religion!''. While the line could just have been a reference to the American alternative rock band REM's song, users were upset with his words and slammed him. While some said that he shouldn't have expressed it publicly, others tried to connect it with his portrayal of Alauddin Khilji. Not all were same, some also sounded sane and said that it was just lyrics from a song. However, how could one please trollers? They continued to express their displeasure even after knowing that these are the lyrics from a song.
At the time of writing, the tweet has garnered 16k likes and 1.0k retweets in just few hours of posting it. In the black and white picture, Ranveer can be seen in long tresses. Check out some reactions here:
I cud nt understand what u said losing religion🙄

— लैला 💃🏻 (@HimanshiKunwar1) November 10, 2017
Common knowledge...it's a song by famous REM and means you're done with things that fed you up. It's not to be taken literally.

— Jenni 💫 (@Jenni_Jen113) November 10, 2017
Indian movies r intolerable in terms of historical depiction.They manipulate it in such a way that it becomes a daily soap saga. They don't cover real history except the love story/dance bit which I dont think ever existed

— 🐼 (@VishwasEr) November 10, 2017
मुस्लिम या ईसाई मै धर्मान्तरण कोई नही बात नही
लालच और डर दो ही इसके कारण है ।
Movie promotion के लिए कोई जवानो को गाली देता है कोई हिन्दूओ को आतंकवादी कहता है
आप तो एक कदम आगे है 😊👍

— Salute #Pulwama #Martyrs (@nitishyadav) November 10, 2017
Par tweet toh standalone hai Madam ji. Ab koi Michale Jackson ka song lyrics toh nahi hai, ki sab jaante honge

Agar song lyrics hai toh he shud have specified ...

Nahi toh isko standalone tweet mana jaayega.

— Chowkidar Kislay किसलय 🇮🇳 (@KayJay2019) November 10, 2017