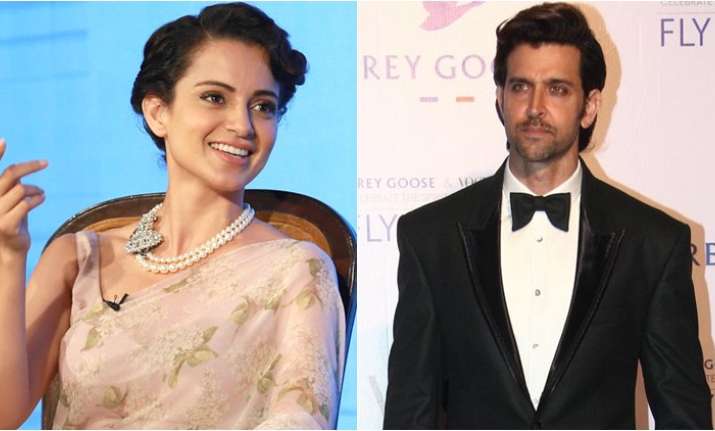 If you thought that the ugly battle between stars Kangana Ranaut and Hrithik Roshan is nearing its end, that may not be the case. Reports have it that this silence is the one that precedes a storm and that the Bollywood's 'Greek God' has been busy collecting proof against Kangana all these days.
Recently, Hrithik's father filmmaker Rakesh Roshan had commented on the entire episode saying that when his son will break his 'dignified' silence, it will leave everyone in shock. And looks like Rakesh's statement was no shot in the dark.
A report in a leading entertainment portal has it that while Hrithik was busy shooting for 'Kaabil', his legal team was working day in and out to gather data. His team has spent a lot of time going through the content on the Internet as well as deciding on the next step.
As per a report citing a source privy to the developments, the entire evidence could well be out in public domain for the people to decide.
It all began when Kangana referred to Hrithik as her 'silly-ex' who kept doing things to get her attention. What followed was an exchange of legal notices with Hrithik alleging that Kangana was trying to malign his image and the latter accusing him of intimidation.
In the entire chapter, while Kangana spoke openly about her romantic relationship with Hrithik, he rarely broke his stoic silence.
The source, apparently a close friend of Hrithik, went on to add that the star is no longer fighting for himself but against the gender prejudice that is prevalent. He added that Hrithik is fighting the idea that between a man and woman, the man is automatically held guilty.
"Hrithik's own plight has made him realize what happens to hundreds and thousands of men who are falsely implicated in molestation and dowry cases by vengeful women. Hrithik feels like one of them," the friend said.
As per the source, Hrithik also feels that laws tend to favour women and that he now plans on exposing Kangana's 'lies'. He further questioned that if the 'Krrish' actors were indeed in a relationship, why is it that no evidence was given to prove the same.