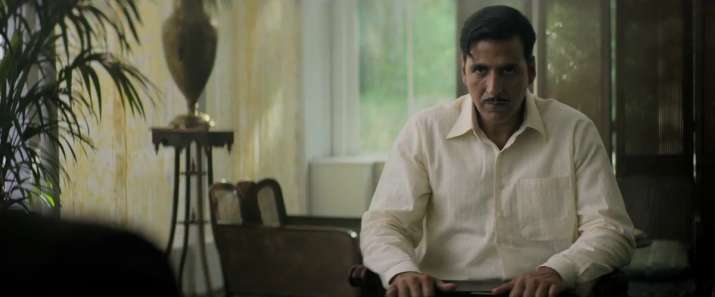 The trailer of Akshay Kumar-starrer Gold dropped today online and it is trending on Twitter. The fictional story which is based on true events is about India's first Olympic gold medal win in 1948 after 12 years of struggle. Akshay Kumar plays the coach of a pre-independence Indian hockey team, Tapan Das, who is hell-bent to see tricolour flying high in the sky.
The film is a mix of patriotism and sports and features talented actors such as Mouni Roy, Vineet Kumar Singh, Amit Sadh, Kunal Kapoor and Sunny Kaushal. Ekta Kapoor's blue-eyed girl, Mouni Roy is making her Bollywood debut with Gold. She is playing the role of Akshay's wife and can be seen scolding him in Bengali in the trailer.
Directed By Reema Kagti, the film has been shot in the United Kingdom and India. The trailer has left fans in awe and they can't stop showering praises. Twitterati are also expressing their admiration for the intriguing trailer. Besides Akshay Kumar's acting, many are also applauding the captivating background score and the strong ensemble cast. Celebrities such as Pulkit Samrat, Bhumi Pednekar and Dia Mirza also loved the trailer. Check out reactions
Reema ❤️ goosebumps! Can't wait! #GoldTrailer @kagtireema @ritesh_sid @FarOutAkhtar @akshaykumar @kapoorkkunal @Roymouni #TeamGold https://t.co/wFS86FqI0a

— Dia Mirza (@deespeak) June 25, 2018
Loved the #GoldTrailer 🇮🇳 .What a super cast.Eager to watch this passionate and courageous story.@akshaykumar sir @reemakagti @excelmovies 🙏🏻 #vineetkumar #amitsadh #sunnykaushal @Roymouni And team all the best ❤️ https://t.co/zTVn1jQdzm

— bhumi pednekar (@bhumipednekar) June 25, 2018
Pacy, Racy, Inspiring, Goosebumps-Inducing trailer of #Gold is here!!!! #Legends under Free India! Super hot stuff! @akshaykumar @kagtireema @ritesh_sid @FarOutAkhtar @kapoorkkunal @TheAmitSadh @Roymouni @SunnyK0 @ItsVineetSingh @excelmovies @vishalrr https://t.co/i5ZdncKb6H

— Pulkit Samrat (@PulkitSamrat) June 25, 2018
the best trailer i have seen this year after #AvengersInfinityWar trailer #GoldTrailer. one word AWESOME .background score is chilling, thanks @akshaykumar sir and @excelmovies for this

— Shradheay singh (@nerdyAms) June 25, 2018
One Word for #GoldTrailer

M-I-N-D-B-L-O-W-I-N-G....

woww.... What a trailer.....

Goosebump scene -
"Hum apna Rashtra Gaan gaega" @akshaykumar @kapoorkkunal @ItsVineetSingh @TheAmitSadh

— Rohit Jaiswal (@rohitjswl01) June 25, 2018
#GoldTrailer is undoubtedly a very impactful trailer. @akshaykumar Bengali hindi accent & dialogue delivery is FANTASTIC, supporting cast is great. Visuals, intriguing plot ,BG score adds on to the overall appeal. 100% Super HIT . @kapoorkkunal @TheAmitSadh @Roymouni #Gold

— Sumit kadel (@SumitkadeI) June 25, 2018
Keeps you hooked... Wonderful visuals... Background score enhances the impact... Here's #GoldTrailer... #Gold stars Akshay Kumar and a strong ensemble cast... Reema Kagti directs... 15 Aug 2018 release... #IndependenceDay... Link: https://t.co/47kfCWG8hE

— taran adarsh (@taran_adarsh) June 25, 2018
Fantastic 👏🏻👏🏻👏🏻 ! #LegendsUnderFreeIndia
🇮🇳💕🇮🇳💕🇮🇳💕🇮🇳💕🇮🇳💕🇮🇳💕🇮🇳💕#GoldTrailer @akshaykumar@excelmovies @FarOutAkhtar @ritesh_sid @kagtireema @Roymouni @kapoorkkunal @TheAmitSadh @ItsVineetSingh @SunnyK0
👉🏻https://t.co/2GtrkJq9CL

— Girish Johar (@girishjohar) June 25, 2018
Gold aims to cash in on patriotism as it will release on 15th August. The day also marks 70 years of independent India's first gold medal at the 1948 Olympics. Gold will locks horns with John Abraham and Manoj Bajpayee's Satyamev Jayate.
For all latest news, keep checking our Facebook page