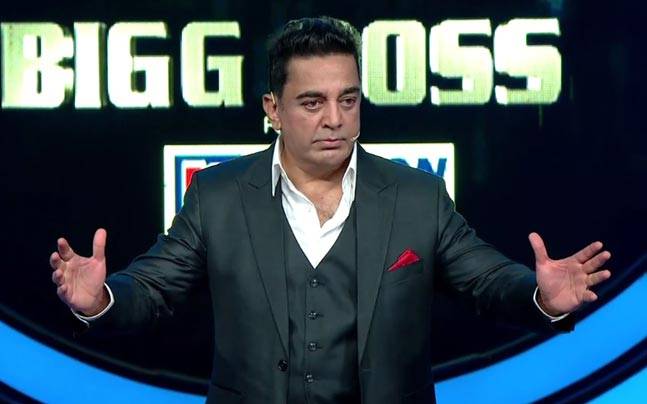 Popular Indian actor Kamal Haasan, who is known for his power-packed performances in films such as Hey Ram and Sadma, has debuted as host in Bigg Boss Tamil. While the veteran actor is garnering a lot of attention, the reality show has been surrounded by varied controversies. On such a scenario, criminal defamation complaint was today filed in a Chennai court against the Bigg Boss Tamil host alleging that he had degraded a particular community in the July 14 episode of the reality show, which airs on Vijay TV.
The complaint was filed in the metropolitan magistrate court here. The judge posted to September 1 hearing on the complaint. Stating that 'Nadaswaram', a musical instrument, which is treated like 'god' by the Isai Vellalar community, its president K R Kuhesh, submitted that in one of the episodes, actor Sakthi was seen throwing it from one hand to the other in a cavalier manner.
The petitioner also contended that the instrument was kept on the dining table as the Bigg Boss participants were having their food, which was insulting and damaged the mindset of the Isai Vellalar community. The show is being telecast on Vijay TV since June 24. Contending that Vijay TV, Haasan, actor Sakthi and Bigg Boss producers Endemol India Private Limited knew well that the act of insulting 'Nadaswaram' would hurt sentiments of the community, the petitioner alleged that Haasan had not sought any apology. He also alleged they had intentionally insulted the 'Nadaswaram' with the motive of attracting viewers and thereby caused defamation, liable to be prosecuted and punished.
Meanwhile, in the latest episode of the show, host Kamal Haasan had surprisingly asked the audience to question Gayathri, the evicted contestant. Until now, Kamal would engage the contestant in a customary chat questioning, critiquing and appreciating the contestant about their journey as when and needed. But the veteran actor also explained why he chose to make this deviation. "There were comments that I have been partial to Gayathri as she was from my caste. I had to quell this notion and hence, this direct conversation," clarified Kamal.
Also taking a strong stand against casteism, Kamal said "We have had a lot of talk about inappropriate language on the show. But, caste is a bad word that is ruining our lives. Please do not use that".
(With PTI Inputs)
For more entertainment stories, follow our Facebook page