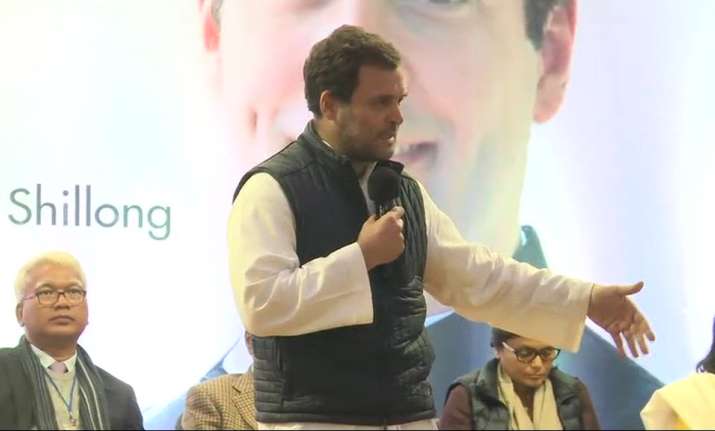 Congress chief Rahul Gandhi on Thursday attacked RSS for its alleged discrimination against women in important roles.  
Addressing a public rally in poll-bound Meghalaya's capital Shillong, Gandhi claimed that RSS ideology was being imposed on the nation.
"We are fighting RSS ideology across the nation. Idea is that one form of thinking is imposed on the country. What BJP and RSS are doing in all over India and particularly in North-east is attempting to undermine your culture, language and way of life, " Congress president said.
"RSS idea aimed at dis-empowering women. Does anyone know many leadership positions are with women in RSS? Zero. If you see a picture of Mahatma Gandhi you'll find women on this side (right), this side (left) but if you see a picture of Mohan Bhagwat, he'll be alone or surrounded by men," he added. 
Gandhi, who is currently on a two-day visit to the north-eastern state, invited the women of Meghalaya to join the party so the public will have 'more and more women' to elect.
The senior leader also claimed that 'If Congress comes back to power in the centre, it is going change the structure of GST and simplify it.
On day 1 of his trip on Tuesday, Congress chief met with party leaders in Jowai and later attended a music concert in a bid to woo young voters. The  'Festival of Peace' concert was also by Congress, the ruling party in the state for past 15 years. 
One of the five states and Union Territories under Congress rule at present, Meghalaya goes to the polls on February 27. Counting of votes will be held on March 3. 
Besides Meghalaya, the Congress is in power in Karnataka, Mizoram, Punjab and Puducherry, a Union Territory. 
(With inputs from agencies)