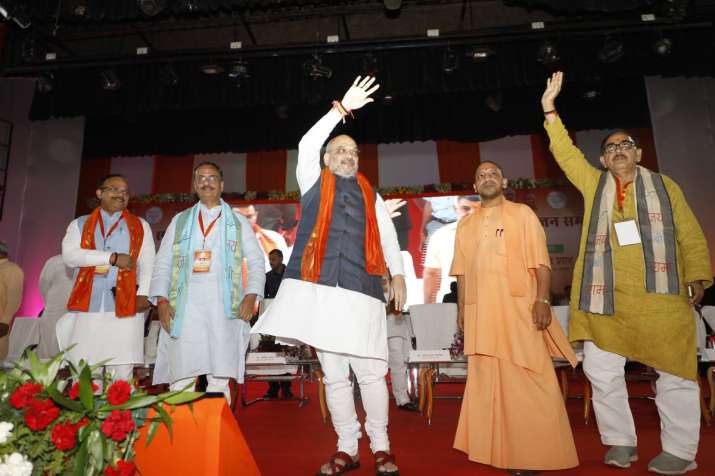 Lok Sabha elections 2019: Bharatiya Janata Party (BJP) President Amit Shah exhorted his party workers to brace up to defeat the Samajwadi Party (SP) and the Bahujan Samaj Party (BSP) which may come up with an alliance ahead of the Lok Sabha elections 2019.
BJP chief is on a two-day visit to Uttar Pradesh. He met BJP workers and members of its social media team here on Thursday. He also urged them to ensure that the vote share of the party went up in the 2019 polls. 
"The party President gave us tips on micro-management of elections and ways to ensure that the unholy and opportunistic of the SP and BSP is exposed before the voters," a senior party functionary present at the meeting said.
Catch all the latest news about Indian politics HERE
Party office-bearers were closeted with the BJP chief, who is credited with BJP success in Uttar Pradesh, first in the 2014 Lok Sabha elections and then in 2017 Assembly elections.
The BJP won 71 of the 80 Lok Sabha seats in the 2014 general elections and 312 of the 403 Assembly seats in 2017. 
Catch all the latest news about Lok Sabha elections 2019 HERE
Shah had visited Mirzapur and Varanasi on Tuesday where he interacted with the party's social media teams and other party leaders. It may be recalled that before the LS by-polls in Gorakhpur and Phoolpur, SP-BSP joined hands which led to the defeat of BJP candidates.
[ALSO READ] Lok Sabha elections 2019: Tejashwi Yadav READY to support JD-U BUT on one condition!
SP chief Akhilesh Yadav also thanked BSP supremo Mayawati for support and visited her home. Mayawati has also hinted that her party may join hands with SP in order to keep BJP out of power. 
[You may also like to read] Monday Talk | 'Outsiders' in party need to be purified from 'Ganga Jal': BJP MP Shyama Charan Gupta 
(With IANS inputs)