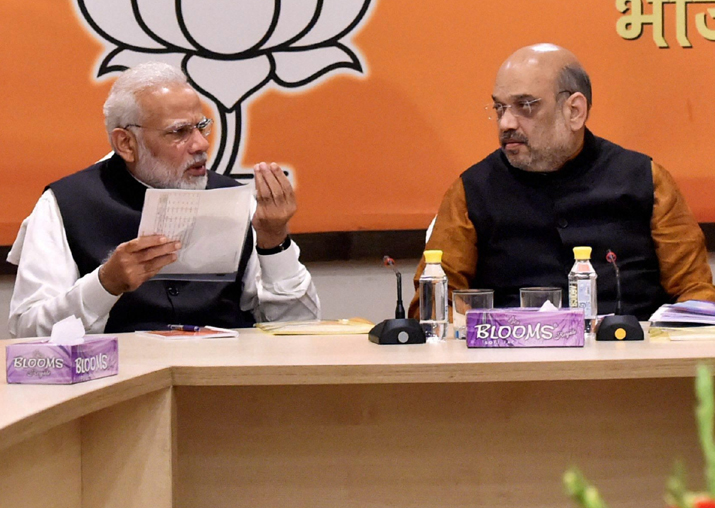 The Bharatiya Janata Party (BJP) today released the second list of candidates for the upcoming assembly polls in Gujarat. There are 36 names in the list of which many are new faces. Nine sitting MLAs have been denied ticket this time.
With this, the party has announced 106 candidates for elections to the 182-member Gujarat Assembly to be held in two phases on December 9 and 14. In the list, there are 13 ST candidates and two SC candidates. 
Yesterday, the ruling party had announced its first list of 70 candidates. After the list was out, many leaders lodged protests as well as resigned from the party alleging due procedure was not followed while decided the names.
To voice their dissent, several supporters of IK Jadeja, a senior party leader and party spokesperson with a strong presence in Wadhwan and Dhrangadhra constituencies in Saurashtra, gathered at the BJP headquarters, 'Shree Kamalam' in Gandhinagar.
They raised slogans against the party, expressing anger against Jadeja being denied candidature from Wadhwan.
In yesterday's list, the gave ticket to industrialist Dhanji Patel, who hails from Surendranagar district. He will be the party's candidate from Wadhwan constituency. 
Interestingly, Dhanjibhai comes from the same sub-caste as Patidar Anamat Anolan Samiti (PAAS) agitation leader Hardik Patel and the move is believed to be the BJP's attempt to make a dent in Hardik's support base.
Resignations and protests by several local leaders from Vadodara, tribal belt of South Gujarat, Navsari, Bharuch, Mahuva, Jasdan and Amreli in Saurashtra have been trickling in since the BJP announced its first list. Many of these leaders have threatened to field independent candidates against the official BJP candidates in the Assembly elections.
The BJP has set up a target of winning over 150 seats for the 182-seat Assembly. The state will go to polls in two phases on December 9 and 14. Counting of votes will take place on December 18.