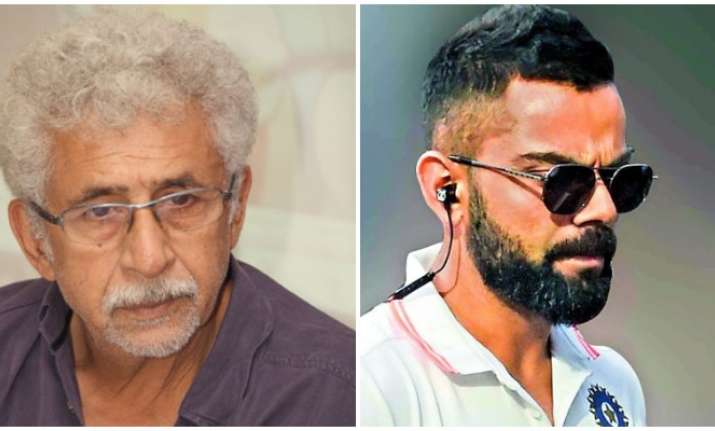 Virat Kohli has his fair share of controversies. The cricketer is well known for aggression besides his batting records. Those who slam Kohli's behaviour often cites the reason that cricket is a gentleman's game and has no place for bad behaviour. Not long back, Virat landed himself in the soup when he asked a fan to leave the country over his preference of batsmen. During a promotional video, the 30-year-old cricketer lashed out at a fan over his comment that he likes English and Australian batsmen more than Indian batsmen.
This ignited a debate on social media with people brutally slamming the cricketer and making memes. Quite late but veteran actor Naseeruddin Shah also joined the bandwagon. Sharing a post on Facebook, the actor has criticised Kohli for his behaviour and also took a jibe at him by saying that he has no intention of leaving the country. 
''Virat K is not only the worlds best batsman but also the worlds worst behaved player. His cricketing brilliance pales beside his arrogance and bad manners.. And I have no intention of leaving the country by the way," the post reads. Soon after he shared it, comments from all the corners poured in. While Virat Kohli's fans defended him by saying that this kind of aggression is needed to beat Australia, others joined Shah to slam the cricketer.
''And this is why he won't be termed as legend. That Same thing happened with ponting. Great batsman but awful person,'' wrote one user. ''I guess sir Australia has 5 World Cups with all the players behaving worst than Kohli.. I guess this attitude is needed to keep the spirit up..!!,'' wrote another. Check out reactions below:
On the personal front, Kohli recently celebrated his first marriage anniversary with wife Anushka Sharma in Australia. He also shared some unseen photos from their wedding.
Anushka Sharma, Virat Kohli share heart-melting photos, videos on first wedding anniversary
For all latest news and updates, stay tuned to our Facebook page