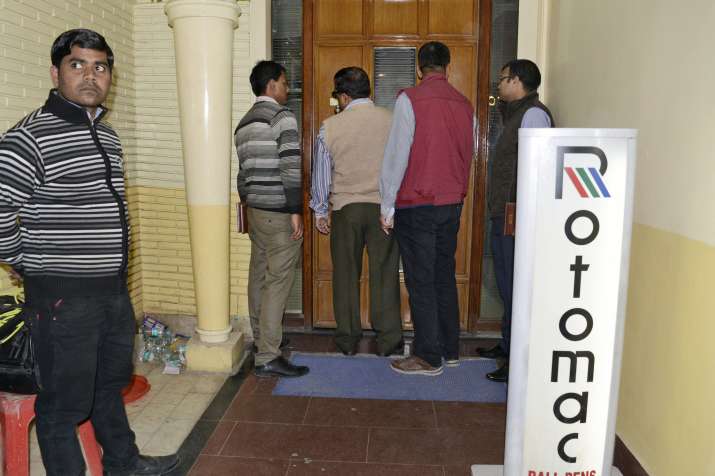 The Central Bureau of Investigation (CBI) on Thursday arrested the owner of Rotomac Pens, Vikram Kothari, and his son Rahul in connection with an alleged loan default of Rs 3,695 crore to a consortium of seven nationalised banks. 
Kothari was earlier questioned by the agency in its New Delhi headquarters on Wednesday and in Kanpur, where his company and residence located, on Tuesday. 
Kothari, his wife Sadhana and son Rahul, all directors of Rotomac Global Pvt Ltd, had allegedly diverted the loan amount towards purposes other than what they were meant for, the officials said. 
One of the banks in the consortium, the Bank of Baroda, had approached the CBI, requesting an FIR to be lodged against Kothari as it apparently feared that he might leave the country, they added. 
The CBI had registered a case on February 18, following the complaint. 
Initially, the alleged scam was estimated to be worth Rs 800 crore, but after the CBI launched its probe into the accounts of the Rotomac Global Pvt Ltd, it was found that the company had allegedly taken loans from the Bank of India, the Bank of Maharashtra, the Indian Overseas Bank, the Union Bank of India, the Allahabad bank and the Oriental Bank of Commerce. 
The CBI has alleged that the accused cheated a consortium of seven banks by siphoning off loan amounts to the tune of Rs 2,919 crore. The total outstanding amount for the company, along with interest and liabilities, is pegged at Rs 3,695 crore, the probe agency has alleged. 
On Tuesday, the Enforcement Directorate (ED) had notified all the land, sea and airports in the country to prevent the exit of Kothari and his family members from India, in connection with its money laundering probe.
 
It had also conducted searches at multiple locations in Uttar Pradesh, including in Unnao and Kanpur, to gather evidence in the case. 
The ED had slapped criminal charges under the Prevention of Money Laundering Act (PMLA) against the company and its promoters on February 18, based on a CBI FIR filed on the same day. 
The Income Tax department had also attached 14 bank accounts of the pen manufacturer as part of its tax evasion probe against it on Tuesday.