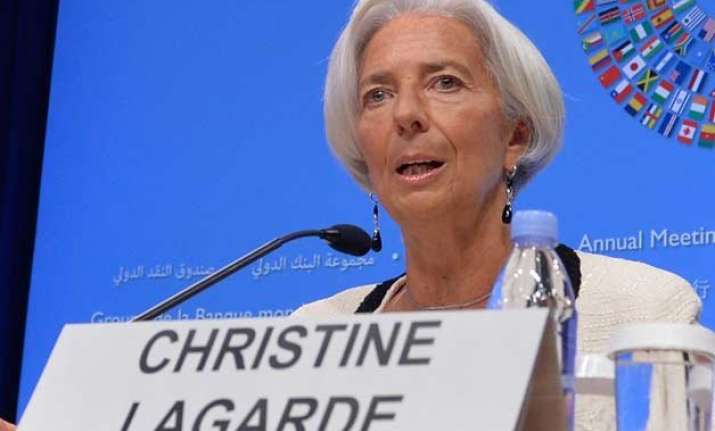 New Delhi: International Monetary Fund (IMF) chief Christine Lagarde has said that India has an opportunity to emerge as one of the world's most dynamic economies.
She, however, added that it needs to implement the planned reforms and open up more fully to the world.
In an interview to Times of India, Lagarde praised the steps taken by Prime Minister Narendra Modi and RBI Governor Raghuram Rajan to steer the economy to a higher growth.
ALSO READ: IMF raises India growth forecast to 7.2% for current fiscal
"India is indeed a bright spot in the global economy, and economic developments hold much promise. I believe India has an opportunity to become one of the world's most dynamic economy, and my message during my visit here will be: seize it!," TOI quoted Lagarde as saying.
The IMF had recently raised its growth forecast of India for the current fiscal to 7.2 per cent. In its annual assessment report for the country, the IMF said that India has emerged as one of the fastest-growing big emerging market economies and the growth rate would further accelerate to 7.5 per cent in the next fiscal 2015-16.
Lagarde further lauded Modi's JAM trinity (Jan Dhan, Aadhar and Mobile) saying it is an important step towards overhaul of the subsidy regime.
"India's robust growth, which averaged over 7 per cent in the last decade, has been a major drive of poverty reduction. Nonetheless, more than 250 million Indians remain below the poverty threshold. Income gaps within India, including across states and between rural and urban population, have increased," she said.
"The new government's push toward using the Jan Dhan platform to ensure welfare payments reach intended beneficiaries is commendable. Subsidies that are needed to help the poor often end up favouring the middle class. That is why the JAM trinity could be a major step up in terms of direct income support to the poor," she further said.
"Our research on India finds that growth that's more equitable is more sustainable, an that the combination of social spending and macro-financial stability, with attention to dampening inflation, are imperative for making growth more inclusive and reducing poverty," she added.
Lagarde, who is expected to meet Modi and Finance Minister Arun Jaitley, during her stay in India, also called for bringing more women into the workforce to boost growth.
When asked about her assessment of global economic situation, she said, "Global growth remains moderate and uneven. Despite a boost from a decline in oil prices, we expect the world economy to grow by about 3.5 per cent this year, picking up modestly next year to 3.7 per cent."