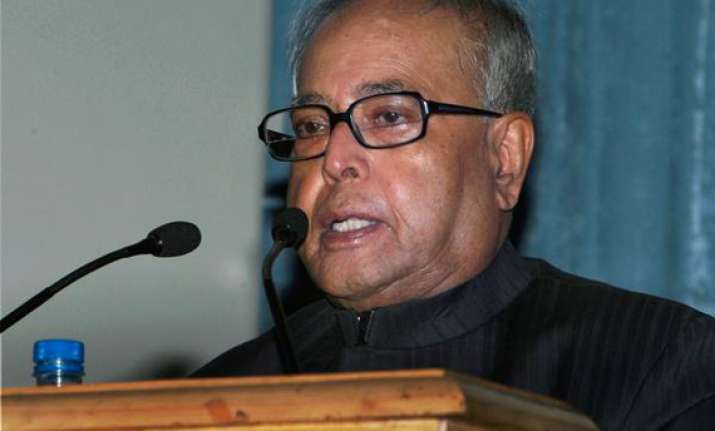 New Delhi, Jun 10: Amid concerns over moderation in economic growth and rising bad loans, finance minister Pranab Mukherjee will meet on Tuesday with heads of public sector banks to discuss credit flow to productive sectors and review their performance in the last fiscal.
The meeting will take stock of financial performance of the banks in 2011-12 fiscal, sources said, adding it would also dwell upon credit flow to productive sectors.
Besides, focus of the meeting would also be on providing banking facilities to unbanked areas. The Finance Ministry would seek information about the progress on financial inclusion front carried out by individual banks.
The Finance Ministry will deliberate on non-performing assets (NPAs), agriculture loan, credit to infrastructure sector and matters related to human resources in public sector banks, they said.
The Finance Minister has fixed the target for agricultural credit at Rs 5,75,000 crore in 2012-13. This represents an increase of Rs 1 lakh crore over the target for the last fiscal.
Issues on lending to distressed sectors, such as real estate, power, aviation and telecom may also be flagged off during the meeting.
Expressing concerns over rising bad loans, Mukherjee last month asked the banks to take steps to manage their NPAs which has grown on account of economic downturn.
Gross NPAs of public sector banks stood at 3.3 per cent in 2011-12.
Heads of public sector financial institutions like Nabard, Sidbi, NHB, IIFCL and Exim Bank would also attend the meeting.
In 2010, the finance minister had conducted regional meetings, which were attended by PSU bankers along with the concerned chief ministers.
This was with the objective to better understand state- wise flow of credit to the agriculture sector, credit-deposit ratio and loan to weaker section of society among others.