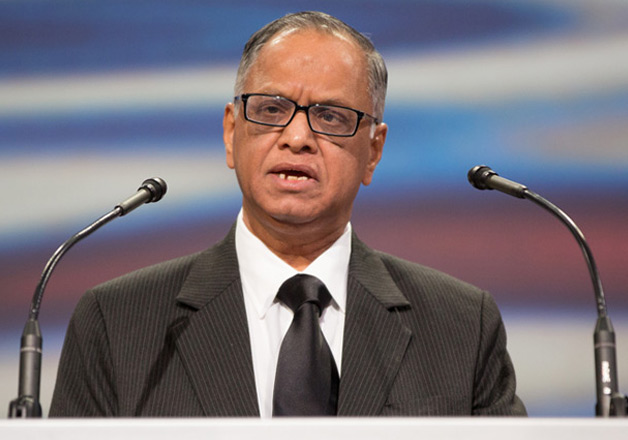 After banning immigrants from seven Muslim-majority nations, President Donald Trump is preparing to sign an executive order to revamp the H1-B Visa, used by tech companies and IT professionals including from India. 
The proposal to restrict inflow of foreign workers, once signed by the President, will make it difficult for IT firms to use the H1B programme that replaces American employees with foreign workers.
As broader uncertainty looms over the fate of the programme, Infosys co-founder NR Narayana Murthy has asked Indian software companies to stop sending people on H-1B visas and focus on local hiring in the US.
Stating that by and large Indian mindset is always to take the 'soft option', Murthy - one of the pioneers of India's IT outsourcing industry, said that becoming multi- cultural is not easy and is a 'very, very hard option'.
"They (Indian software companies) must recruit American residents in the US, Canadians in Canada, British people in Britain etc. That's the only way, we can become a true multi-national company and in order to do that, we should stop using H1-B visas and sending a large number of Indians to those countries to deliver services," Murthy said.
He added that recruitment from colleges should be done and local people be trained to add value to Indian companies.
The proposed overhaul of popular H-1B visa regime by US President Donald Trump has raised concerns among the Indian IT firms. Also, the recent introduction of a US bill (Lofgren Bill) that proposes doubling of the minimum wages of H-1B visa holders to USD 130,000 from USD 60,000 has made the industry worried.
Any changes in the visa regime may result in higher operational costs and shortage of skilled workers for the USD 110 billion Indian outsourcing industry.
"I think even if the executive order comes, we should look at it more as opportunity for Indian companies to become more multi-cultural than we have been, rather than looking at it as a lacuna," Murthy said.
The US contributes nearly 62 per cent of the exports. Analysts are of the opinion that Indian tech companies could easily witness around 60-70 per cent rise in salaries of H-1B Visa dependent workforce, leading to a 5-10 per cent hit on the margins, depending on the total base of employees currently on H-1B Visas.
Asked why Indian companies were in panic over the protectionist stance of the new US administration, Murthy said Indian companies will have to learn to work with non-Indian professionals and become more multi-cultural.
"I think by and large, the Indian mindset is always to take the soft option. Becoming multi-cultural is a very, very hard option, it's not easy. Our managers will have to learn with non-Indian professionals, how to get the best out of them, how to work in teams that are multi-cultural, how to make sure that we understand the rules of crossing cultures," he said.
Murthy added that this was the 'only way' to remove the risk of government mandating things like the executive order.
Meanwhile, Indian IT sector leaders will meet both US lawmakers and officials from Trump's administration later this month to lobby against any major changes to visa regulations that could hurt the industry.
According to reports, Chief Executives from some of India's big IT companies will be part of a delegation visiting Washington in the week of Feb 20.
Indian IT service companies use H-1B visas to fly engineers to the US, their biggest market, to service clients, but some opponents in the United States argue they are misusing the programme to replace US jobs.