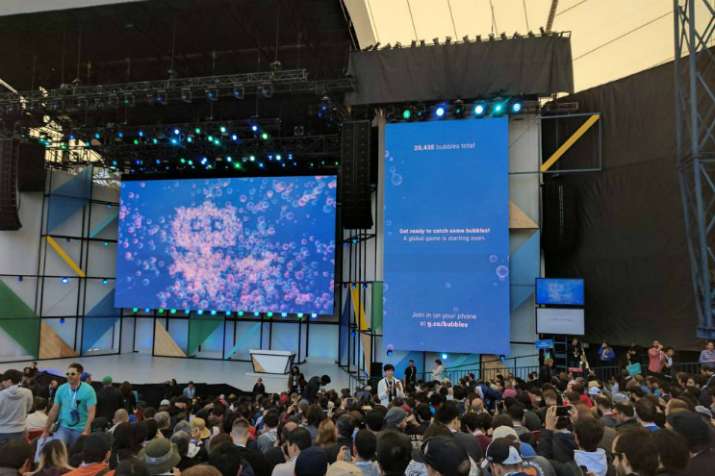 Google began its I/O 2017 developers conference -- an annual 3-day conference for developers -- in Mountain View, California today. The search engine giant has made some very interesting announcements, not just for Android users but also for iPhone loyalists.
The Google I/O keynote was by Google CEO Sundar Pichai at the Shoreline Amphitheater near Google headquarters in Mountain View where the event is taking place from May 17-May 19. Here are some wacky things announced so far:
Google has launched Google Lens, a new AI-powered app that gives out information about an object whenever you point a phone at it using this app. Virtual tell me why/what! Isn't it cool?
How many times were you not able to share a pic despite liking it just because it had some unnecessary things in it that you could not possibly remove? Fret not, Google has just announced a brand new feature in camera app that can let you remove things from a photo that you don't want to show. Next level editing, eh?
Google.AI, a new site is announced that will help people get some of the tools and technologies that Google's AI teams use.
Google says, "Starting today, we're bringing the Google Assistant to iPhones. Whether at home or on the go, your Assistant is here to help."
See how your #GoogleAssistant is getting better across devices—from Google Home to your phone → https://t.co/CVWBVrLjWH pic.twitter.com/LwqsKUVyVr

— Google (@Google) May 17, 2017
Google launches Photo Books in Google Photos. Google Photos will now suggest pictures to share on the basis of what people are looking at. 
What used to take hours can now be done in minutes with new photo books from #GooglePhotos → https://t.co/XXKJg9WJXW #io17 pic.twitter.com/vW0eE521vw

— Google (@Google) May 17, 2017
YouTube experience will never be the same again with 360 degree view, Google enables us to get right into the action.
With 360 video on the @YouTube app, you'll feel like you're the middle of the action from your couch, on the biggest screen you own. #io17 pic.twitter.com/Y3LmQaKD54

— Google (@Google) May 17, 2017
Google launches AndroidO or Android Oreo, the new OS will bring more fluid experiences to mobile screens, along with improved "vitals" like battery life and security.
Another exciting announcement! It's time for the VR headsets to go solo. Here's the explanation:
New #Daydream standalone headsets from partners like @htcvive won't require a phone or PC. #io17 pic.twitter.com/7TpYPJGEdU

— Google (@Google) May 17, 2017