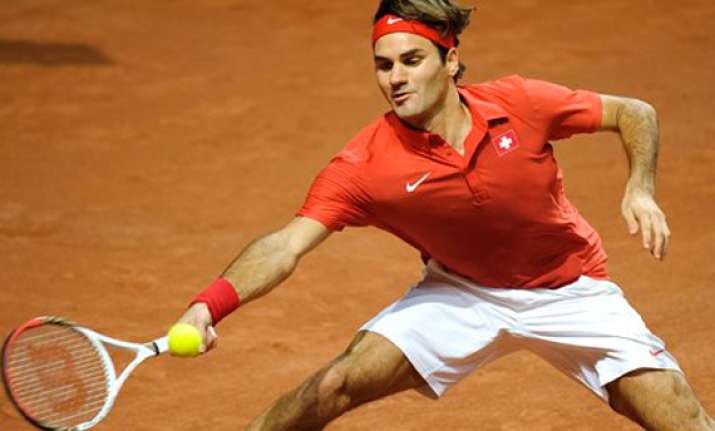 London, Feb 11: Roger Federer's first opening-round Davis Cup match in eight years wasn't supposed to turn out like this.

The 16-time Grand Slam champion fell to a shock 4-6, 6-3, 7-6 (4), 6-2 loss to John Isner as the United States took a 2-0 lead against Switzerland in the World Group on Friday.

In search of the only major trophy in tennis he doesn't own, Federer was on the receiving end of a barrage of big serves and booming groundstrokes from the 2.06-meter (6-foot-9) Isner that silenced that partisan crowd of 7,000 at Fribourg Forum.

"I thought he played great," Federer said. "He played it tough and served great when he had to. I just missed a couple more opportunities than he did and that's what cost me the match."

Switzerland hasn't won in the World Group since Federer decided to skip the first round from 2005, and the Alpine nation will struggle to change that statistic this year after Mardy Fish beat Stanislas Wawrinka 6-2, 4-6, 4-6, 6-1, 9-7 in a thrilling opening match.

American pair Mike Bryan and teenager Ryan Harrison will face Federer and Wawrinka, the 2008 Beijing Olympics gold medalists, in doubles on Saturday.

Seven other first-round series in the top tier of Davis Cup were contested Friday. Croatia and Japan were level at 1-1, Ahead 2-0 were Serbia (vs. Sweden), Austria (vs. Russia), Argentina (vs. Germany), Spain (vs. Kazakhstan) and Czech Republic (vs. Italy). The other matchups is Canada vs. France.

Defending champion Spain didn't miss Rafael Nadal too much, with former No. 1 Juan Carlos Ferrero and Nicolas Almagro putting the hosts on course for a 22nd straight victory at home and a 24th straight win on clay.

Ferrero, playing Davis Cup for the first time since September 2009, came from behind in the fifth set to beat Mikhail Kukushkin 6-1, 4-6, 7-6 (2), 4-6, 6-4 while Nicolas Almagro downed Andrey Golubev 6-3, 4-6, 6-1, 6-1 in Oviedo.

"I tried to maintain my game and winning that third set helped," said Ferrero, the 2003 French Open champion.

Nadal and David Ferrer have helped Spain win three of the past four titles but both are absent, forcing new captain Alex Corretja to pick a whole new squad.

Beaten finalist in 2011, Argentina had little trouble against Germany, whose glory days when winning the title three times with Boris Becker and Michael Stich look as far away as ever.

David Nalbandian rallied to beat Florian Mayer 2-6, 6-0, 6-1, 7-6 (5) and Juan Monaco defeated Philipp Petzschner 6-3, 6-3, 6-3 in Bamberg, Germany.

Argentina is looking for its first title after losing four finals.

Austria is on the verge of reaching the quarterfinals for the first time since 1995, after Andreas Haider-Maurer defeated Alex Bogomolov Jr. 6-1, 6-4, 6-7 (1), 6-2 and Jurgen Melzer topped Igor Kunitsyn 6-2, 6-7 (3), 6-4, 3-6, 6-1 at home in Wiener Neustadt.

Russia has managed to win from 2-0 down only once, against Germany in 1995.

"I don't look at history and statistics," Austria captain Clemens Trimmel said. "We are not there yet. The team has celebrated for 10 minutes and is now focusing on the next match."

In Ostrava, Czech Republic, Tomas Berdych and Radek Stepanek won their opening singles matches for the hosts.

Stepanek had to dig deep to overcome Andreas Seppi 4-6, 6-4, 6-3, 3-6, 6-3, and then No. 7-ranked Berdych fought harder than expected to defeat the 135th-ranked Simone Bolelli 6-3, 4-6, 7-5, 6-2.

At home in Hyogo on its return to the World Group after a 26-year absence, Japan led when Go Soeda rallied for a 6-7 (3), 3-6, 6-4, 6-3, 7-5 win over Ivan Dodig. But Ivo Karlovic beat Kei Nishikori 6-4, 6-4, 6-3 to level the series.

Japan is 10 places below seventh-ranked Croatia in the Davis Cup rankings.

Playing without top-ranked Novak Djokovic, who is resting after winning the Australian Open, Serbia was rarely troubled at home in Nis against an opponent it beat 4-1 last season.

Janko Tipsarevic defeated Filip Prpic 6-3, 6-3, 6-4, and Viktor Troicki beat Michael Ryderstedt 6-4, 6-3, 5-7, 6-3.