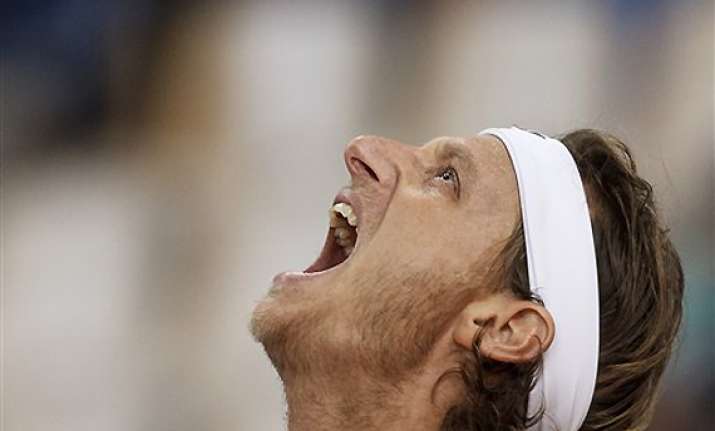 Spain, Dec 3: Argentina won the doubles against Spain to stay alive in the Davis Cup final and cut the hosts' lead to 2-1 on Saturday.

David Nalbandian and Eduardo Schwank, partnering for the first time, eased to a 6-4, 6-2, 6-3 victory over Spanish pair Fernando Verdasco and Feliciano Lopez on the clay at Olympic Stadium.

The South Americans broke five times and repelled each of the three they faced against their Spanish counterparts to extend the tie into Sunday. The visitors need to sweep Sunday's reverse singles to become the first team in 72 years to rally from a 2-0 deficit.

"We played a great game. We're in very good shape, and the series is still alive," Nalbandian said. "Our hope is intact."

But such an achievement appears difficult with Rafael Nadal, unbeaten on clay in the competition, opening for four-time champion Spain against Juan Martin del Potro. The 11th-ranked Del Potro has to bounce back from his exhausting near five-hour singles loss and hand 10-time major champion Nadal his first loss on clay in 16 Davis Cup matches.

"Rafa will be going out to win so Juan Martin has to play his best tennis to win," said Nalbandian, who added he was ready—and likely—to replace Juan Monaco should the final stretch to a fifth match.

Lopez and Verdasco again failed to follow up an impressive sweep of the opening singles by Nadal and David Ferrer. They also lost in the semifinals against France in which they won only three games. Their cup win-loss record together stands at 7-6.

"Obviously, today we didn't play well," Spain captain Albert Costa said.

The Argentine section of fans was boisterous throughout, with Nalbandian volleying home the winner to break Lopez's serve in the fifth game as the visitors served out the set.

Nalbandian, playing for the first time since October, and Schwank were barely bothered after that as they got out to 4-0 in the second to take command of the match.

In the third set, just when the Spanish pair managed to get the crowd fired up with a break chance in the sixth game, Argentina saved two break opportunities before Schwank ended the suspense with a volley at the net to hold serve.

Schwank served out the victory in just under two hours when Verdasco volleyed into the net.

Argentina has never won in three previous final appearances, including in 2008 when it lost to Spain in Mar del Plata.