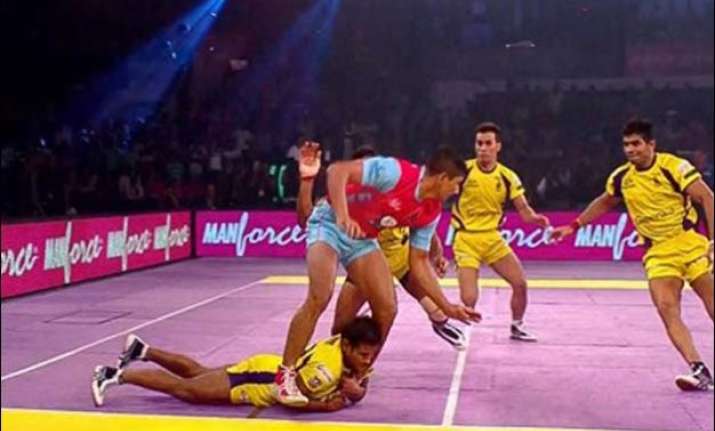 Bengaluru: Telugu Titans began their home leg with a thrilling draw against Pink Panthers in the Pro Kabaddi season two here on Tuesday. The scoreline read 39-39 in the end with teams sharing three points apiece. 
The Titans remain in second place with 29 points and Panthers in sixth with 16. Telugu Titans had beaten the Pink Panthers 33-22 in Jaipur earlier in the competition.
The hero of Tuesday's humdinger was undoubtedly the tall Sonu Narwal, who was trapped just once by the rival defence.
He had a whopping tally of 13 points including three bonus points. And most of them came in the second half as he ran through the Titans to help his side inflict an all-out within ten minutes of resumption after the local side led 20-12 at the break. The score stood at 29-27 to give hopes to the visitors.
In the first half, a fine show by Sukesh Hegde had put Titans in a good position with an all-out within seven minutes. He started with a super raid of three points and followed with a couple in another raid.
Panthers star Jasvir Singh went pointless in the first half as he was time and again successfully tackled by the Iranian duo of Meraj Sheykh and Hadi Oshtorak.
Rahul Chaudhari too was his usual self. Having started confidently before the break he pocketed seven points in the latter half. His heroics brought his team back from the brink of defeat.
Having been dismissed by their rivals for the second time when they were trailing 34-39, the Titans held their nerve with Sukesh Hegde too pulling his weight. He got two points in the dying minutes which proved crucial in the end.
Panthers made silly mistakes towards the end and failed to hold on to the lead. Jasvir was caught by Hadi and after two empty raids Rajesh Narwal was caught by Sandeep.
It left the Panthers with just a point advantage. But the impressive Rahul got the vital equaliser. Jasvir who was in next went in and returned under the impression that his team had won the match.