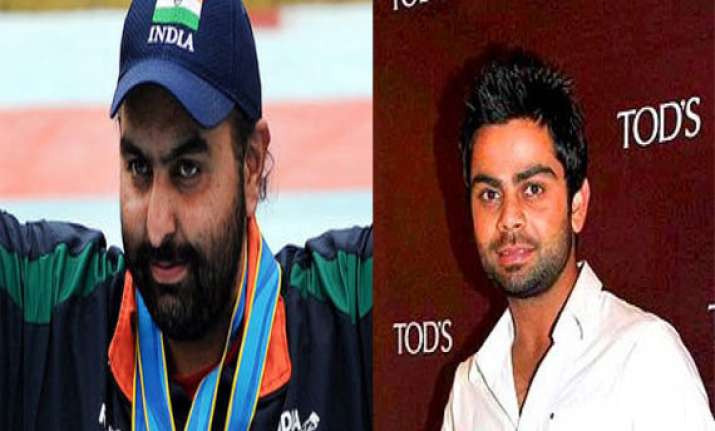 New Delhi:  Robbed of some sheen due to selection controversies this year, the National Sports Awardswere presented today to the country's top athletes and coaches with shooter Ronjan Sodhi getting the Rajiv Gandhi Khel Ratna, the country's highest sporting honour -- while cricketer Virat Kohli was among the Arjuna awardees.
A loud applause greeted the ace shooter as he received the Khel Ratna award from President Pranab Mukherjee in the presence of a host of Ministers, dignitaries and sports celebrities.     
But there was some drama just hours before the awards when long-jumper Renjith Maheshwary's Arjuna award was held back after reports emerged of him being a dope-tainted athlete.     
Sodhi became the seventh shooter to be honoured with the prestigious award. Interestingly, it is for the third consecutive year that the Khel Ratna award has gone to a shooter.     
Sodhi, who had a disastrous outing at the London Olympics last year, is a former world number one. He was a double trap gold-medallist at last year's Asian Games, besides being a silver-medallist at the Commonwealth Games.     
Sodhi, who was the first Indian to win two back-to-back World Cup gold medals, collected the top honour which comprises a medal, citation and a cash prize of Rs 7.5 lakh each.    
Another star attraction at the ceremony was cricketer Kohli, who was given a thunderous applause while receiving the Arjuna award.     
However, rising badminton player P V Sindhu, who became the first Indian woman shuttler to clinch a bronze medal at the World Championships, could not be present at the function personally to take the award. Besides Sindhu, this year's Arjuna awardees list featured a number of female sportspersons. World Championship bronze medallist Kavita Chahal, veteran squash player Joshna Chinappa, former hockey captain Saba Anjum, paddler Mouma Das, wrestler Neha Rathi and shooter Rajkumari Rathore and archer Chekrovolu Swuro, who was part of the silver medal-winning team in the 2011 World Cup.    
But this year's awards were marred by controversies since the day the list was announced. Sodhi's selection for the Khel Ratna triggered a protest from shot-putter Krishna Poonia and paralympics silver-medallist long-jumper H S Girisha.     
There were the usual protests by the some others who felt they deserved to be in the Arjuna awardees' list and if that was not enough, the Maheshwary scandal also struck the awards.    
Maheshwary had won a bronze medal at the 2010 Commonwealth Games with a national record.
Rising golfer Gaganjeet Bhullar, chess player Abhijeet Gupta, billiards and snooker star Rupesh Shah, wrestler Dharmender Dalal and para-athlete Amit Kumar Saroha were also conferred the Arjuna award.     
The choices were made by a selection committee headed by three-time billiards world champion Michael Ferreira and comprised noted sportspersons like Limba Ram, V Devarajan, Zafar Iqbal, Vandana Rao, Anjali Bhagwat, Indu Puri, Shakti
Singh, Ravi Shastri, Kripa Shankar Patel and Surinder Khanna besides a few other bureaucrats.     
Dronacharya Award, the top recognition for coaches in the country, was conferred on five including long-serving archery coach Purnima Mahato and women's hockey coach Narendra Singh Saini, wrestling coach Raj Singh, athletics coach K P Thomas and boxing coach Mahavir Singh.     
Mahato started coaching in 1994 and among her wards is former world number one and Commonwealth Games gold-medallist Deepika Kumari.