Follow us on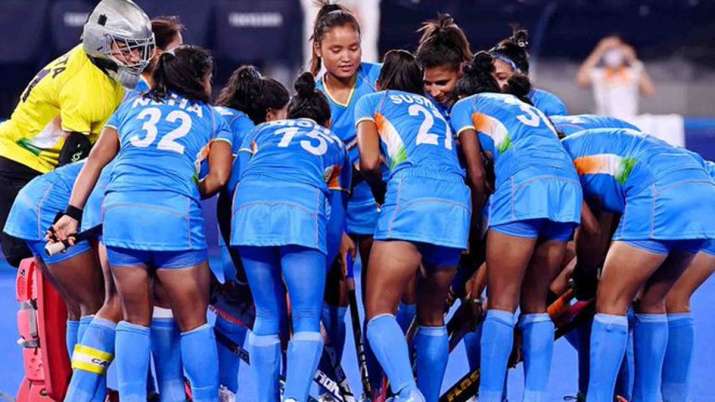 HIGHLIGHTS of Tokyo Olympics 2020 Day 3
RESULTS
: 
Archery: Lost to South Korea to make a quarterfinal exit from the men's team even
Fencing: CA Bhavani Devi suffered a second- round defeat in the women's individual sabre event
Tennis: Sumit Nagal lost in second round.
Table Tennis: Sharath Kamal reached round 3. Manika Batra lost in round 3 while Sutirtha Mukherjee lost in round 2. 
Shooting: Mairaj Khan and Angad Bajwa out of men's skeet event
Boxing: Ashish Chaudhary (75kg) lost in round of 32
Swimming: Sajan Prakash out after finishing 24th in Men's 200 Butterfly heats
Hockey: Indian women's team loses 0-2 to Germany
-----------------------------------------------------------------------------------------------------------------------------------------------------------------
19:09 IST: India had their chances but failed to make the most of it as the women's team suffer a second consecutive defeat in the tournament with a 0-2 loss to Germany
18:39 IST: A stunner from Anna Schroder and Germany now go 2-0 up against India. 
18:38 IST: MOMENT OF HISTORY! Hidilyn Diaz won in women's 55kg weightlifting competition
18:37 IST: OHHH DEAR! Gurjit misses a penalty stroke opportunity as India continue to trail 0-1 in the Pool A game. 
18:22 IST: The first quarter goal from Germany continue to separate the two sides as India head to half-time trailing 0-1
17:45 IST: Time for some hockey action! Can India bounce back after their defeat to the Netherlands in the opener?
17:04 IST: Look who's heading to Tokyo...
16:35 IST: Up next, the Indian women's hockey team will be up against Germany in their Pool A game at 17:45 IST
16:14 IST: Sajan Prakash bows out of contention for a spot in the final after finishing 24th in the heats
15:52 IST: Sajan Prakash finished fourth in Men's 200 Butterfly heat 2.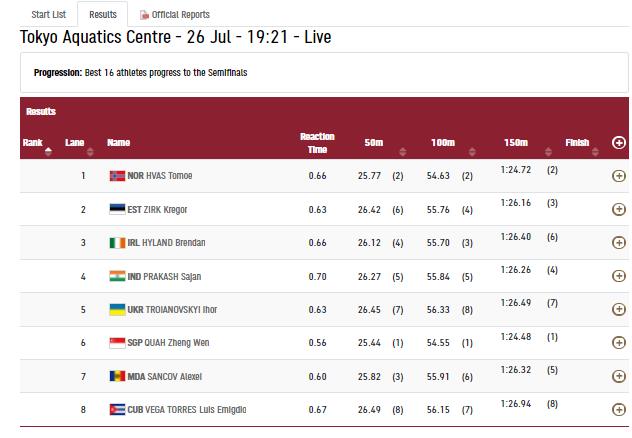 15:41 IST: Up next, India's Sajan Prakash in Men's 200 Butterfly heat 2. He will become the second Indian swimmer to compete in classification A heat after Srihari Nataraj became the first on Sunday. The latter competed in 100m backstroke heat 3, but failed to qualify. 
15:20 IST: Ashish did everything he could do to pull off a comeback, but eventually he lost 0-5 to his Chinese opponent.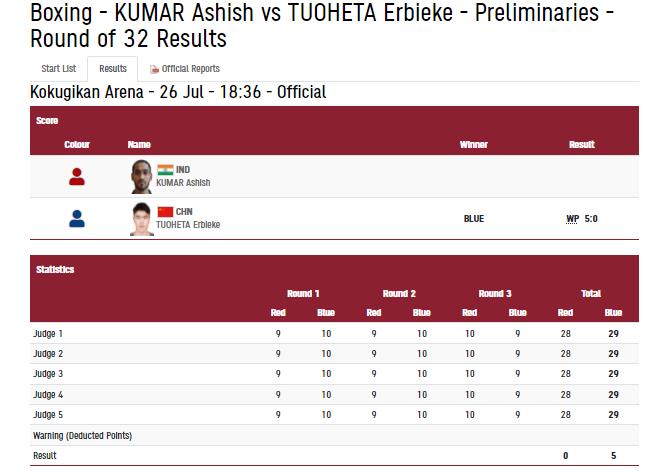 15:16 IST: Ashish trails 0-2 after the second round. 
15:09 IST: India's Ashish Kumar is in the red corner, and he is going up against China's Touheta Erbieke, in the blue corner.
14:40: Boxer Ashish Kumar Chaudhary (75 kg) is all set to make his Olympics debut against E.Tuoheta of China. The match starts at 3:06 PM IST!
13:36: It was certainly a learning curve for Manika on how a World No. 17 can make you feel perturbed by their quality of placing, return and spin variation. The final score reads 11-8, 11-2, 11-5, 11-7 in Polcanova's favour.
13:33: And that's it! Manika's run in Tokyo Olympics ends here. Polcanova wins 4-0.
13:31: It appears like a meek surrender now from Manika, score reads 9-6 for Polcanova.
13:30: Manika is surely under pressure as she looks uncertain of her shot-making; including missing regulation shots. Polcanova leads 7-5.
13:26: The difference in forehand quality of both the players is quite evident. Polcanova doesn't just blocks it but places it better to makes it a difficult return as well. It's 3-1 in the fourth game. 
13:24: Polcanova takes the third game 11-5, Manika is in grave danger of getting knocked out.
13:23: Manika is struggling to understand the spin variations of the Austrian, it's 8-5 in Polcanova's favour in third game at the moment.
13:19: Unlike Manika's round 2 opponent, Polcanova has been a tough nut to crack in long rallies. It's 3-3 in the third game.
13:18: Polcanova shows why she is World No. 17 as she is in firm control of the match with 2-0 lead in best-of-seven game clash. Manika must come back strong before it's too late.
13:16: 10-2! Polcanova has introduced variety in her game, keeping Manika unsettled.
13:14: Polcanova takes 3-1 early lead in the second game; Manika is building the game well but it's her finishing that has not been at its best yet.
13:12: Manika concedes the first game 11-8 as she is yet to find her best of rhythm but she does looks focussed.
13:11: Following a see-saw battle, Polcanova has two game points at 10-8. 
13:08: Interestingly, Manika's World No.17 Austrian rival is a left-handed shakehand grip player, which may make things tricky for the Indian World No. 63.
13:04: Scores are tied at 3-3 with both players trying to gain an advantage of their serves.
13:01: (Table Tennis) Manika Batra is warming up with Sofia Polcanova before the beginning of the match.
12:20 (Sailing) Sailor Nethra Kumanan continued her impressive performance in the 44-fleet Laser Radial class as in the 10-race event so far, she has finished 33rd in Race 1, followed by 16th and 15th in Race 2 and 3 respectively; seven races left.
11:53 (Table Tennis) Next is Indian TT star Manika Batra up against Austria's Sofia Polcanova in pre-quarterfinal at 1:00 PM.
11:51 AM: Medvedev breaks Nagal again to close the match 6-2, 6-1.
11:45 AM: Medvedev is in a hurry, it's 5-1! Nagal is unable to find a way.
11:40 AM: (Tennis) Double break! Medvedev in driver's seat at 4-1 in the second set.
11:37 AM: (Tennis) Medvedev holds on to his serve to make it 3-1.
11:36 AM: (Skeet Shooting) Angad Bajwa (120 points) and Mairaj Khan (117 points) finish 18th and 25th in men's qualification round and couldn't make it to the final as only the top six qualify. France's Eric Delaunay (124 + 6 points) and Italy's (124 + 5) break Olympic qualification record. 
11:31 AM: Nagal holds serve to make it 2-1 after a gruelling game.
11:21 AM: World No.2 Medvedev is fast-running away from the game as he takes a 2-0 lead in the 2nd set.
11:17 AM: Nagal tried hard to find some rhythm going into the match but the sheer class of Medvedev was too much to match in the first set as the Russian made the Indian No.1 work hard and forced errors out of him. Medvedev didn't go out with an all-attack approach, forcing Nagal to find ways to win points.
11:15 AM: Medvedev takes first set 6-2.
11:11 AM: It's 5-2 as Nagal holds on strong to force Medvedev to serve for the first set.
11:08 AM: Medvedev holds serve to make it 5-1.
11:05 AM: After early jitters, Nagal is matching Medvedev shot for shot but the 2021 Australian Open finalist's class still separates them as Medvedev breaks Nagal to make it 4-1.
11:00 AM: Medvedev holds his serve to make it 3-1 in the first set.
10:55 AM: Those words of argument has certainly bumped up Sumit as he takes his first game of the match. The score reads 2-1 in 1st set.
10:54 AM: (Tennis) Sumit is given time warning by chair umpire for taking too much time for serving. Sumit seems bemused; argues the rule was different in his first round match.
10:49 AM: (Tennis) Medvedev stretches lead 2-0 but Sumit makes him work hard for it.
10:47 AM: (Tennis) Medvedev breaks Nagal's serve at the very beginning of the match. It's 1-0 in the Russian's favour.
10:38 AM: (Tennis) Tough test for Sumit Nagal awaits as he takes on 2nd seed Daniil Medvedev, who is playing under the Russian Olympic Committee flag.
10:32 AM: (Archery) It's over for the Indian archery men's team as well! Atanu Das and Co. lose 6-0 to mighty South Korea.
10:29 AM: (Badminton) And it's over, Indian pair lose in straight games 13-21, 12-21 in Group A match. They will next face England tomorrow to keep themselves in contention.
10:27 AM: (Badminton) Things are bleak here as well as the Indonesia top seed pair are leading the second game 18-12 at the moment. 
10:25 AM: (Archery) South Korea are being flawless expectedly. They take the second set 59-56! The setpoint lead is now 4-0.
10:24 AM: (Badminton) Indonesian pair has taken 11-8 lead in the second game.
10:20 AM: (Archery) South Koreans take the first set 59-54; take a 2-0 setpoint lead.
10:18 AM: (Archery) The South Korean pair of Je Deok, Woojin Kim and Oh Jinyek were among the top four contenders during the archery ranking rounds while the Indian trio ended in the bottom half; facing much criticism.
10:17 AM: (Badminton) Chirag/Satwik take 6-3 lead in the second game. 
10:15 AM:  (Archery) Indian men archery team -- Atanu Das, Pravin Jadhav and Jayant Talukdar -- take on the event favourite South Korea in quarter-final of men's team event.
10:12 AM: Clinical first display by Gideon/Sukamujlo in first game as they clinch it 21-13.
10:11 AM: The first game is slipping away from the Indian duo's hand as Gideon/Sukamujlo takes a 19-12 lead; they need two points to win the first game.
10:08 AM: Yes, Chirag is back on his feet and the match resumes again.
10:06 AM: This is worrying now, Chirag has also hurt himself during the point and is being treated on the court. His expressions suggest it's a minor injury and the match should resume soon.
10:05 AM: The chair umpire penalised Chirag Shetty for touching the net, the score reads 13-9 in Gideon/Sukamujlo favour. 
10:02 AM: The top seed Indonesian pair are leading the first set 11-7 in the best-of-three game clash.
09:58 AM: While both the pairs try to find a rhythm, the scores are tied at 5-5 in the first game so far.
09:52 AM: (Badminton)  Get in folks! Satwiksairaj Rankireddy/Chirag Shetty vs Marcus Gideon/Kevin Sanjaya Sukamuljo (Indonesia) is all set to begin.
09:20 AM: Sumit Nagal's match vs Daniil Medvedev is scheduled in Court 1 of Ariake Tennis Park after the Belinda Bencic vs Misaki Doi women's singles match, which is yet to start.
09:10 AM: Badminton pair Satwiksairaj Rankireddy and Chirag Shetty are to take on Indonesia's Marcus Fernaldi and Kevin Sanjay Sukamuljo. The duo upset the top seed pair of Chinese Taipei in the earlier round and will look to book their spot in knockout rounds in Group A.
09:03 AM: (Skeet Shooting) India seems out of medal contention as Angad Bajwa (96 points) is currently at 19th spot and Mairaj Khan is at 25 (94 points). The gap seems too far for the duo to be back in the medal run as only top 6 qualify for the final,
09:00 AM: The final score: Fu Yu beats Sutirtha Mukherjee 11-3, 11-3, 11-5, 11-5 in a one-sided encounter.
08:58 AM: Fu Yu wins the fourth game 11-5 to knockout Sutirtha from medal run.
08:56 AM: Sutirtha currently leads the fourth game 403.
08:53 AM: Fu Yu clinches the third game as well. With a 11-9 win, she just needs one game as well.
08:49 AM: No momentum for Sutirtha yet as the 42-year-old Portuguese takes 6-2 in the third game as well.
08:47 AM: To remind our readers, Manika also lost the first two games of her second-round match against Linda Bergstroem. However, she prevailed the match 4-3 in a comeback win to become the first Indian paddler to reach pre-quarters at the same time.
08:45 AM: Sutirtha is certainly not comfortable dealing with Fu Yu's spin serve as the Portuguese clinches the second game 11-3 as well. 
08:45 AM: Sutirtha begin on a brighter note with 2-0 lead but it's Fu Yu now who got herself ahead at 6-3.
08:42 AM: A long pep talk by Indian coach Saumadeep Roy to Sutirtha Mukherjee before the second game, let's if that helps Surtirtha or not.
08:41 AM: Sutirtha certainly needs a change of plan after she concedes the first game 11-3. 
08:38 AM: World No. 30 Fu Yu takes 6-2 lead in the first game over her 98th ranked Indian opponent.
08:35 AM: Interestingly, Fu Yu prefers a penhold grip on her paddle -- often preferred by Chinese and Korean player. Sutirtha prefers the more common shake-hand grip. 
08:33 AM: Hello everyone, welcome back to our live blog for Sutirtha Mukherjee's round 2 Women's singles match against Portugal's Fu Yu.
7:57 AM: Next up is paddler Sutirtha Mukherjee in action in round 2 of the Women's singles round at 8:30 AM IST.
7:50 AM: Bhavani's Olympics ends as Brunet clinches the match 15-7! But Bhavani can return home a proud fencer as she won her first match in Olympics, first by any Indian fencer, and has chiselled her names in the history books.
7:49 AM: Brunet is just a point away from win at 14-7.
7:49 AM: Bhavani picks four points on the trot to make it 11-6, will she rally to win?
7:47 AM: Bhavani picks her third point! It's 11-3 now
7:46 AM: World No. 3 Brunet is just too quick for Bhavani at the moment as the French fencer leads 11-2.
7:44 AM: Brunet pumped up as well as she stretches the lead to 8-2 at the end of the first half.
7:43 AM: Bhavani exults after taking another point but Brunet still in lead at 5-2!
7:43 AM: Brunet currently leads 3-1. In case you are not aware of how this sport works, it's all about 15 touches made by the fencer on her opponent over two halves.
7:39 AM: Both Bhavani and Brunet (seeded 4th) are ready to face each other.
7:32 AM: In case you missed the morning action,  you missed an opportunity to witness Indian history happening at the Tokyo Olympics. Becoming the lone fencer to compete at an Olympics, Fencer CA Bhavani Devi won on her debut, defeating the 36th seed Nadia Ben Azizi with a dominant 15-3 in the round of 64 of women's individual sabre fencing.
7:29 AM: (Fencing) Next up in Bhavani Devi in her sabre fencing round of 32 match against World No. 3 Manon Brunet at 7:40 AM IST.
7:28 AM: The 39-year-old paddler certainly deserves rave reviews for playing excellent TT on the day. Sharath did had a slow start as he lost the first game in just 4 minutes. However, he then he came back strong in the second game and won two games on the trot to take an advantage. He won 55 points during the course of the game and often created big opening to keep the pressure on his Portuguese opponent and finally prevailed him in the sixth game in a neck-to-neck battle.
7:24 AM: The final scoreline reads 2-11, 11-8, 11-5, 9-11, 11-6, 11-9 in Sarath's favour.
7:22 AM: Sharath Kamal scripts history! defeats Apolonia 11-9 in the sixth game to win the match 4-2! He reaches Olympic pre-quarterfinals for the first time in his career.
7:19 AM: Apolonia is not letting Sharath any freebies as Sharath has a slender 9-8 lead as Apolonia's coach calls for a break.
7:15 AM: Sharath now leads the sixth game for the first time at 4-3
7:14 AM: Going 2-0 down in the sixth game, Sharath picks two points on the trot to make it 2-2.
7:11 AM: It's certainly exciting for the Indian fans as this is the first time in five Olympics that the 39-year-old veteran will reach the round 3; ageing like a fine wine!
7:10 AM: Sharath takes the fifth set 10-6 to make it 3-2; needs one more game to win the match.
7:08 AM: The discussion of strategy surely is working as Sharath takes 8-5 lead. Sharath's footwork has been a treat to watch today.
7:07 AM: Sharath and Apolonia are tied 4-4 in the fifth game at the moment as Indian coach Saumadeep Roy calls for a break to discuss strategy with the Indian paddler.
7:02 AM: Apolonia takes the next two points to win the game 11-9, the match is tied 2-2 now.
7:01 AM: It's 9-9 all now as both players are trying to avoid rallies and are trying to close a point as soon as possible
06:58 AM: The game seems to be going down the wire as it is tied at 7-7 now.
06:57 AM: Apolonia seems to be getting hang of things now as he ties the fourth game 4-4 a the moment.
06:55 AM: Experience shows in his confidence as he quickly takes 3-1 lead in the fourth game.
06:53 AM: Sharath takes the third game as well with a score of 11-5 as he leads the match 2-1 with four-possible games left; Sharath just needs to win two of them now.
06:50 AM: Apolonia is surely struggling to understand Sharath's spin variations as it's 9-3 now in the third game.
06:48 AM: Sharath is surely getting under the skin of his opponent as he takes 5-1 lead in the third game.
06:44 AM: Sharath takes the game 11-7, match is tied 1-1.
06:42 AM: Sharath is looking comfortable with his attacks as well as he stretches lead to 9-3.
06:42 AM: Sharath is using his defensive game to advantage as he takes 7-2 in the second game.
06:40 AM: Sharath takes 3-0 lead in the second game.
06:39 AM: Sharath yet to gain momentum and concedes the first game 11-2 in the best-of-seven match.
06:36 AM: Sharath seems to be uncertain against the serve of his Portuguese opponent as Apolonia takes 7-2 lead.
06:32 AM: (Table Tennis) Sharath and Apolonia are warming up at the moment. 
06:32 AM: (Archery) India men's team will face South Korea at 10:15 AM later today. 
06:29 AM: STAY TUNED FOLKS! It's Sharath Kamal next playing his round 2 match against Portugal's Tiago Apolonia, beginning at 6:30 AM.
06:25 AM: It will be a tough test for Indian archers in the quarter-finals as they will face mighty South Koreans. Not to forget, the performance of veteran Tarundeep Rai has left a lot to be desired.
06:19 AM: India win the match 6-2 as the fourth set went in India's favour with both Pravin and Atanu hitting 10's to make it 56-64.
06:17 AM: Kazakh finish the fourth set with a total of 54, India at 35 with two shots left as Tarundeep hits 8.
06:16 AM: It's worth mentioning that Atanu has been the standout performer among the Indian trio so far. both 
06:14 AM: Kazakhstan take the third set 57-56; They are back in the game with the scoreline reading India 4-2 Kazakhstan.
06:12 AM: Kazakhs fight for all or nothing as they lead 29-28 now with a sequence of 10-10-9 to India's 10-9-9 shots.
06:08 AM: India clinch second set 52-50; stretching their lead of set point to 4-0, need one more point to win the match.
06:07 AM: Indian archers are all smiles as they hit 10-9-9, with Atanu hitting the 10. The total is 28.
06:06 AM: India with chance to take further lead as Kazakhs could only hit 3 8s to get a sum of 24 in second set.
06:04 AM: India takes the first set with a score 55-54; taking 2-0 set-point lead in the match.
5:54 AM: The trio of Atanu Das, Pravin Jadhav and Tarundeep Rai will take on Kazakhstan in 1/8 Elimination round.
5:52 AM: But go nowhere as Indian recurve archery team will begin their hunt for medal in the men's team event, beginning at 6AM.
5:50 AM: Bhavani's round of 32 match against Manon Brunet is scheduled at 7:40 AM IST. 
5:44 AM: Folks! If you have joined the action late then you missed an opportunity to witness Indian history happening at the Tokyo Olympics. Becoming the lone fencer to compete at an Olympics, Fencer CA Bhavani Devi won on her debut, defeating the 36th seed Nadia Ben Azizi with a dominant 15-3 in the round of 64 of women's individual sabre fencing. Later today, the nine-time national champion will now play her last-32 match against Frane's Manon Brunet, who reached the semi-finals of 2016 Rio Olympics.
5:42 AM: Bhavani Devi reaches round of 32 where she will face France's World No. 3 Manon Brunet.
5:41 AM: Bhavani Devi has put India on the map of Fencing in Olympics! She wins 15-3!
5:40 AM: 13-1! 2 more points
5:39 AM: After the break, Bhavani is close to a win as she leads 12-1.
5:37 AM: At the halfway stage, Bhavani has earned herself a 8-0 lead; Indian fans are surely having a good morning.
5:36 AM: The nine-time national champion is in command now, she has now 7-0 lead over Ben Azizi, needs 8 more points to win.
5:35 AM: Bhavani is on fire from the start, picks two points with two touches from the first two moves.
5:32 AM: In case you are not aware of how this sport works, it's all about 15 touches Bhavani Devi needs to make on her Tunisian opponent to win the match. 
5:31 AM: Irrespective of the result Bhavani produces, the Indian fencer deserves all respect for introducing India to a sport that has a rich history in the Olympics.
5:29 AM: The 29th seed Indian will be taking on the 36th seed Nadia Ben Azizi from Tunisia.
5:25 AM: Fencer Bhavani Devi is about to make her debut in women's individual sabre fencing table of 64.
5:15 AM: Welcome to the live blog of Indian events of the Tokyo Olympics. There are plenty of Indian stars in action on Day 3 with medal rounds in few events. Let's take a look at the complete schedule in the day ahead.
Welcome to the live blog of the 2020 Tokyo Olympics. Three women athletes -- the ageless wonder MC Mary Kom, world badminton champion PV Sindhu, and pioneer paddler Manika Batra -- kept the Indian hopes alive on what was otherwise a bad day for the Indians at the Tokyo Olympics, made worse by the men's hockey team getting hammered 7-1 by world No. 1 Australia. The shooters continued to fire blanks as Divyansh Singh Panwar and Deepak Kumar finished 26th and 32nd respectively in the men's 10m air rifle. There was also disappointing news from the tennis courts as multiple-time Grand Slam winner Sania Mirza and Ankita Raina crashed out in the opening round, leaving Sumit Nagal as the lone hope in the men's singles.
Despite a disappointing day 2, there's plenty of action in store from Day 3 for India with medal hopes in shooting events and some big names from other disciplines in action as well. Stay tuned as we will share the entire Indian schedule from Day 3 soon.