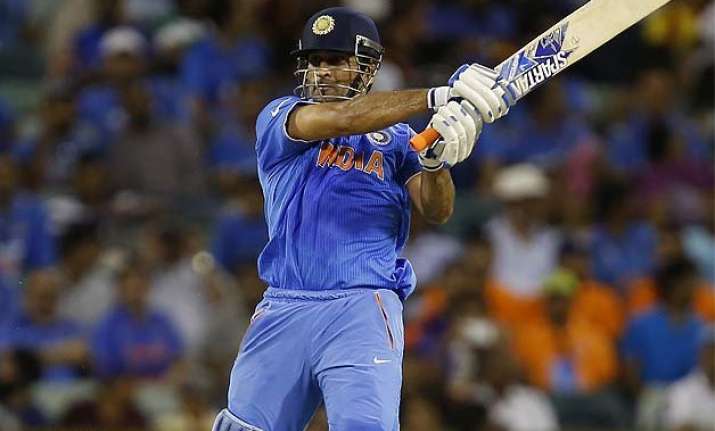 Auckland: Former New Zealand wicketkeeper Ian Smith feels it will be extremely difficult to fill up the void created in Indian cricket once Mahendra Singh Dhoni bids adieu to the game in near future.
"It will be very hard to fill up Dhoni's shoes. In case of MS (Dhoni), he has really been unchallenged in this Indian team as a wicketkeeper and batsman. To add to it, there was this extra burden of captaining a team like India, where there is enormous pressure to perform every day, where he is expected to take all correct decisions.
The captaincy bit adds to his quality. I would like to stress that the burden that Dhoni takes could have taken a very big toll on any man with lesser capabilities, Smith told PTI during an interview.
While Dhoni's successor in the Test team Wriddhiman Saha has proved his mettle as a solid wicketkeeper, but Smith feels India's next glovesman will have to be more than a capable batsman.
"Let's assume that the best wicketkeeper in India scores at an average of mid-20's and there is the next best who can score at 40 plus in international cricket, that particular guy would be chosen.
That's the kind of bar that Dhoni has set for keepers in India after Adam Gilchrist changed the perception of wicketkeeper-batsman to batsman-wicketkeeper. A batsman-keeper is expected to keep atleast 90 per cent of accuracy in catching and stumping," explained Smith.
The 58-year-old Smith, who played 63 Tests and 98 ODIs for New Zealand between 1980 and 1992, also strongly feels that "gone are those days when a pure wicketkeeper with little bit of batting skills was considered to be okay".
"With due respect, Ian Healy, Bob Taylors have had fantastic careers behind the stumps and a very effective career with the bat. But sadly, that's no longer enough to play international cricket. If you want to become an international wicketkeeper, you can't bat lower than No 7. You are expected to play an attacking role.
"Even Healy, Bob Taylor had wonderful careers with gloves and effective careers with bat, it's sadly not enough anymore.Not much room is left for wicketkeepers batting lower than No 8," he said.
Asked about the one wicketkeeper-batsman who has caught his attention in the World Cup, Smith replied, "In terms of pure wicketkeeping, I think I would rate Quinton de Kock as the best in the tournament so far. Having said that MS Dhoni and Luke Ronchi are also doing well."
For Smith the team that will win the World Cup will have to be the "best bowling unit" in the tournament.
"I believe that the team that wins World Cup may not be the best batting side but certainly the best bowling side. The simple reason being batting conditions are so good and I don't see any difference in India and New Zealand's batting qualities.
Both India and New Zealand look like going through the pool stage unbeaten. It's good to win all pool matches but it's not good enough to win the World Cup. I hope that for both India and New Zealand, winning all matches don't turn out to be a bad omen," Smith signed off.